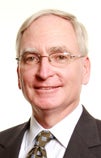 Marwan Simaan, Interim Dean of the College of Engineering and Computer Science is pleased to announce the appointment of Charles H. Reilly as Associate Dean for Academic Affairs effective September 1, 2009. Dr. Reilly is a Professor in the Department of Industrial Engineering and Management Systems and has served as Interim Associate Dean since late January. "Chuck Reilly brings extensive administrative expertise and leadership to our Office of Academic Affairs," Dr. Simaan said.
"As interim Associate Dean, he has shown considerable leadership, high standards, and dedication to our faculty, staff and students. I am certain he will continue to do an outstanding job as our Associate Dean for Academic Affairs in the years to come," Dr. Simaan added.
Dr. Reilly earned his BA in Mathematics and Business Administration at St. Norbert College in 1979. He completed his MS and PhD degrees in Industrial Engineering in 1980 and 1983 respectively at Purdue University. He then spent the next 13 years on the faculty at The Ohio State University, including seven years in departmental administrative roles.
Dr. Reilly came to UCF as Chair of the Department of Industrial Engineering and Management Systems in 1996. Since completing his term as chair, he has been the CECS Coordinator for the Inter-disciplinary Modeling and Simulation Program from 2002 to 2007 and then served as the Department's Graduate Coordinator from 2007 to 2009.
His research interests are in the areas of simulation of optimization test problems, empirical evaluation of algorithms and heuristics, and applied operations research. He is an Area Editor for the International Journal of Operations and Quantitative Management. His professional memberships include IIE, INFORMS, and ASEE.