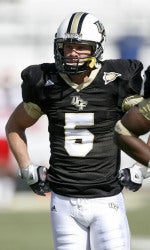 The Knights are set to square off against the Scarlet Knights in a game between programs that share more than just similar nicknames.
At 8-4, UCF and Rutgers have followed familiar blueprints to St. Petersburg. Both have leaned on stingy defenses and gobs of turnovers to offset sketchy offenses and finish the regular season better than it started it. For the Knights', the difference between 9-4 and 8-5 is a whole lot more than just one game.
UCF is college football's version of a jack-in-the-box. If you push it down one year, it's going to pop right back up in the following season. For the sixth year in-a-row under head coach George O'Leary, the Knights have alternated losing years with winning marks. They've rebounded from going 4-8 in 2008 by winning eight games, including five of the last six to close with a flurry.
Players to Watch: If the Knights are going to keep the momentum going on offense, it'll have to spring Harvey, the focal point of the offense and one of the more underrated backs in Conference USA. His mission on Saturday will be to soften a Rutgers defense that's No. 20 nationally against the run , allowing just 109 yards a game a game. If Harvey can create enough second-and-short situations, Hodges' life will be a whole lot simpler. If not, the Scarlet Knights will pin its ears back and generate steady backfield pressure. The combination of George Johnson and Jonathan Freeny on the outside, and DT Scott Vallone and LB Ryan D'Imperio on the inside could cause problems for the UCF front wall.
If Savage is going to have success through the air, he'll need plenty of help from LT Anthony Davis and an offensive line that too often failed him during the fall. The Scarlet Knights are 112th nationally in sacks allowed, making for a terrible and troubling bowl match up. Only four teams have more sacks than UCF, which boasts great speed and a terrific front seven. Bruce Miller and Jarvis Geathers form one of the best bookends you've never seen play, combining for 23 sacks and ranking in the top two, respectively, in the league. On the inside, Torrell Troup is a penetrator, with next-level upside and talent. Add in the range of linebackers Lawrence Young and Cory Hogue, and the Knights are liable to make Rutgers conservative and one-dimensional. If, however, Savage has the time to throw, finding speedy Tim Brown and Sanu is doable versus a young Knight secondary that starts two freshmen and ranks 112th in pass defense.
UCF will win if … Hodges picks up where he left off in the second half of the year. The senior does not have to be prolific, but if you can't keep the Rutgers defense honest with some threat of a passing game, you're not going to move the ball on the ground either. And when the Knights rush for less than 150 yards in game, they're just 2-4 this season. If Hodges is laboring getting the ball to Rocky Ross, Kamar Aiken, and A.J. Guyton, the Scarlet Knights will stack the line with D'Imperio, LB Damaso Munoz, S Joe Lefeged, and Devin McCourty. As good as Harvey is, he won't make his own yards if eight men are in the box. UCF has seen what happens this season when the offense disappears, making a repeat of the Texas and Miami games a distinct possibility. Hodges has to spread out the defense and spread the ball around if Harvey is to avoid having a target on his chest.
What will happen: While Rutgers and UCF may use a similar gameplan to get from Point A to Point B, the Knights from the North will survive on the strength of their superior athletes. UCF will go toe-to-toe with Rutgers for a while, containing the Scarlet Knights with a defense that's every bit as good as the rankings indicate. However, at some point in the second half, Rutgers will build a little breathing room behind the balance of Savage's passing and the running of Martinek. Savage, in particular, could make big strides from the end of the regular season, benefitting from a couple of weeks to catch his wind and focus on that questionable Knight secondary. Any comeback attempt will be stifled by the Scarlet Knight defense, which shouldn't have too many issues containing a UCF offense that's gotten better, but still has just one all-star player and a very average supporting cast.
CFN Prediction: Rutgers 27 … UCF 17 … Line: Rutgers -3
Continue reading at CollegeFootballNews.com by Richard Cirminiello.