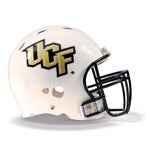 When the UCF Knights suit up to play in 2010-11, they will be wearing one of the world's most prestigious sports logos – the Nike "Swoosh."
UCF Director of Athletics Keith Tribble announced today a partnership with Nike beginning July 1, 2010. The agreement will outfit each of the Knights' 16 intercollegiate sports teams and more than 450 student-athletes in Nike footwear, uniforms, practice gear and equipment.
"We are very excited about our new partnership with Nike," Tribble said. "Most importantly, our student-athletes will be thrilled to wear the Nike brand. We look forward to a long relationship with Nike."
Nike director of sports marketing Kit Morris said, "Nike is excited to become the official supplier of athletic footwear, apparel and equipment for the Knights, and we especially look forward to outfitting all of UCF's student-athletes and coaches from its 16 sports programs."
Founded in 1963, UCF is the third-largest university in the nation. UCF and its 12 colleges, located in Orlando, Florida, provide opportunities to over 53,500 students, offering 200 bachelor's and master's degrees and two-dozen doctoral programs. In 2007, UCF opened its on-campus football stadium and its basketball arena. In 2008, UCF became the first U.S. med school to offer scholarships to an entire class.