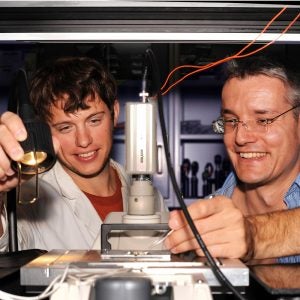 From antibacterial hand gels to the special coating on vehicle tires that repels water, nanotechnology is increasingly used in daily life, but most people don't know what it is.
A group of University of Central Florida students wants to do for nanotechnology what Star Trek did for the term "warp speed" – bring it into the everyday vernacular. So students are hosting NanoFest Florida 2012 from 2 to 5 p.m. Sunday, April 15, at the Alafaya Public Library, 12000 E. Colonial Drive in east Orlando. The event is free and for the general public.
During the event, graduate and undergraduate students will explain in everyday language what nanotechnology is, why it matters and the potential it has to change the world. They will have some samples of items to show.
"The students are excited about the emerging field of nanotechnology and nanotech-enabled consumer products," said UCF Professor Swadeshmukul Santra, who is advising the students on the project. He wears many hats at UCF, working at the university's NanoScience Technology Center, the department of chemistry and the Burnett School of Biomedical Sciences in the College of Medicine. He's also a scientist who has found a promising new way to use quantum dots (a type of nanotechnology) to deliver cancer-fighting drugs to cells.
So what exactly is nanotechnology? There are a lot of definitions, but most agree that it is the exploitation of the ability to control matter at dimensions between 1 and 100 nm (nanometers), resulting in unique functionalities.
Santra said the idea for the event originated from NanoFlorida, an annual statewide event that promotes scientific exchange, research collaboration, networking and industry-academia partnerships, which he initiated in 2008 as a student-led NanoScience Technology Center event for the first time in Florida.
"We thought, why not reach out to the general public to help them understand what nano is and why it really matters," Santra said.
From medicine to construction and consumer electronics, the potential of nanotechnology seems endless. In Europe and the United States there are already more than 1,200 products on the market that incorporate nanotechnology.
Other products blend nanoparticles in an organic matrix to create nanocomposites. Ultrafine carbon particles, called carbon black for example, are widely used as a reinforcing filler material in rubber products such as automobile tires and as a pigment in printer toner. Other nanocomposites are used in clothing to help prevent stains.
Amit Kumar, one of the student organizers of NanoFest, said volunteers are eager for the day to arrive.
"Today nanotechnology touches almost every aspect of society, from computers, medical, space research to energy, but most people don't know it," Kumar said. "Awareness is very important, because home is the first school for children and hearing about this exciting science at an early age we hope will generate interest among them in this science field."