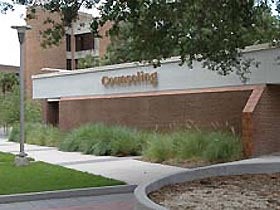 The UCF Counseling Center's Pre-doctoral Training Program has been accredited by the American Psychological Association for the first time. The center was evaluated by APA against their highest standards of expectation and training practices at the doctorate level. Additionally, the center was accredited for seven years−the highest number of years one can be accredited.
The program is in its sixth year with a total of two doctoral students graduating per year. The center's training program is under the direction of Associate Director Karen Hofmann. She said, "Being APA accredited means that our center will not only attract superior staff to work at the center, but recruit high quality pre-doctoral interns from top graduate schools who will then provide excellent mental health care to our UCF students."
Pre-doctoral interns, Jamie Young and Natalie Arcario, share their comments and experiences at the Counseling Center: "I moved from Oregon to pursue my choice of a pre-doctoral internship at the UCF Counseling Center knowing that I would be valued here and receive great training," says Young. "Earning APA accreditation means that the highest standard is upheld, giving my training a higher level of credibility and making me a more marketable job candidate."
Arcario stated, "Having grown up in Central Florida, I was excited to return to the area for my internship year and my clinical training at UCF has only surpassed my expectations. I have already gained enormous experience both professionally and personally working within a diverse counseling center that truly values training and growth. I believe UCF's recent APA accreditation gives well-earned recognition to the program's many assets."
The APA Commission on Accreditation was established to evaluate doctoral internships in professional psychology to keep in accordance with published criteria and procedures for excellence in training. Hofmann states, "We are proud to be recognized both regionally and nationally as a competitive pre-doctoral internship site in professional psychology."
In addition, the program has an interdisciplinary premaster's internship for students completing their masters in mental health counseling, social work or clinical psychology. The UCF masters internship has graduated 63 students since it began in 1998, and it is viewed as one of the best master's internship training sites in the Central Florida area.
The Counseling Center is in the Division of Student Development and Enrollment Services.