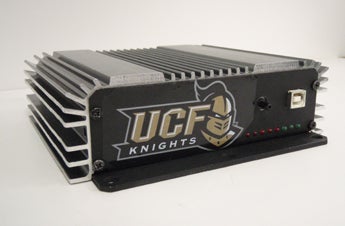 Creating a device that maximizes the effectiveness of a wind turbine was a breeze for a group of engineering students and graduate assistants from the University of Central Florida, who won first place at the 2009 Future Energy Challenge in Australia.
Now the team is working to enhance the device, reduce the cost of building it and partner with a company interested in putting the alternative energy solution on the market.
Electrical Engineering majors Jonathan Baker, Christopher Hamilton, Mike Ramsey and Anthony Wertz spent more than a year building a low-cost wind turbine energy maximizer. Their design, which controls the turbine's output power despite varying levels of wind speed, outperformed maximizers from five other universities throughout the world at the July competition. Baker and Hamilton represented UCF in Australia.