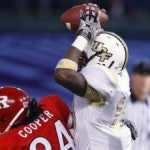 UCF sophomore safety Kemal Ishmael (Miami, Fla.) was named the Conference USA Defensive Player of the Week on Monday for his efforts in UCF's 42-7 rout of UAB on Wednesday night.
Ishmael made seven tackles in the game, six of them solo, while also adding an interception and forcing a fumble. The interception came on UAB's first possession of the game and led to a score that quickly put UCF on top 7-0. The forced fumble, coming on the opening drive of the second half, was returned 56 yards for a touchdown by Josh Robinson, putting UCF on top 28-0 and in complete control of the game.
For the season, Ishmael leads the Knights with 32 tackles, 22 of which have been solos. He has been a rock in the secondary as the Knights have proven to be one of the nation's top defenses thus far in 2010. UCF ranks second nationally in passing efficiency defense (92.29 rating), fifth in passing defense (148.2 ypg), eighth in scoring defense (13.8 ppg) and ninth in total defense (265.2 ypg). Only Cal also ranks in the top 10 in each of these four categories.
This marks the second time in three games that a Knight has won the award. Darius Nall took home the weekly honor after UCF's Sept. 18 win at Buffalo when he made a career-high and team-leading nine tackles against the Bulls, including three tackles for loss and a pair of sacks, broke up a pass and was credited with a forced hurry, creating an errant pass that Bruce Miller intercepted and returned 30 yards for a touchdown.
UCF (3-2, 1-0 C-USA) will put its seven-game C-USA winning streak on the line on Wednesday night as it heads north to face Marshall (1-4, 0-1) at 8 p.m. live on ESPN. The Knights will then return home a week from Saturday to play host to Rice at 3:30 p.m. on Oct. 23 in its Homecoming contest. For ticket information, call (407) 823-1000 or logon to UCFAthletics.com.
Shawn Doyle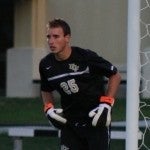 Sophomore goalkeeper Shawn Doyle (Ft. Myers, Fla.) of the No. 24 UCF men's soccer team was named the Conference USA Defensive Player of the Week for his consecutive shutouts of Florida International and Memphis this past week. Doyle helped the Knights sweep their three-game homestand with a 2-0 win over FIU and a 3-0 victory over Memphis, stopping three shots in both games to earn the conference accolade.
Against the Golden Panthers, the second-year keeper was tested with a late freekick opportunity. After making the initial save on a ball that sailed over the wall, the Knights' keeper scrambled to his right to force the rebound opportunity wide of the goal.
Following his fourth shutout of the season, Doyle earned his fifth in the next game against the Tigers on Saturday night. Doyle went nearly the first 80 minutes of the contest without seeing a shot from Memphis. Then, after the Knights scored their third goal of the game, the Tigers went on the attack.
In the final 10 minutes, Doyle was called upon to make three key saves to preserve the shutout. Stopping one shot from long range, Doyle then had to stop two rebound chances from Memphis' best player, Parker Duncan, on the doorstep.
"I didn't do very much in the first half," Doyle said following the game. "At the end, there was that 10-minute span where they came at us pretty hard after we scored our third goal. They started pushing and that was something that we had to withstand to save the shutout.
"The team's defense as a whole has worked well all season. I haven't had to make too many saves and that's a credit to them as they have been throwing their bodies around and blocking shots for me."
Doyle appreciates the defensive efforts in front of him, but likes when he is called upon to help his team win games.
"It's nice to have something to do. It feels good to contribute to the team's goals."
This season, Doyle now has a conference-leading goals-against average of 0.59 this season. He has stopped .818 percent of the shots he has seen and has posted five shutouts, both of which lead the league. His eight wins in 2010 are the most by a UCF keeper in a season since the Knights joined C-USA in 2005. UCF currently sits atop the league standings at with 12 points at 4-0, while 8-2 overall.
The Knights put their perfect 4-0 conference record on the line when they travel to Lexington, Ky., to take on Kentucky on Wednesday, Oct. 13 at 7 p.m.