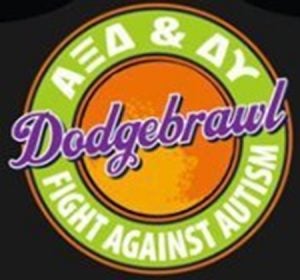 Alpha Xi Delta and Delta Upsilon will host their third-annual Dodgebrawl competition to raise funds and awareness for autism on Wednesday, Nov. 2, at 6:30 p.m. at Memory Mall. The proceeds will support Alpha Xi Delta's national philanthropy, Autism Speaks, and Delta Upsilon's local philanthropy, Threshold Center for Autism.
Dodgebrawl will consist of four dodgeball courts and two live DJ's at Memory Mall across from the UCF Arena. Each team is encouraged to dress up in costumes that showcase their personality for a signature costume competition.
Alpha Xi Delta and Delta Upsilon will raise money through team entry fees and T-shirt sales. Sponsors also play a vital role through their monetary and in-kind donations as well. In total, over $5,000 was raised last year with more than 178 students and 41 UCF Greek organizations participating.
With one in 110 children diagnosed with autism every year, funding for research is essential to finding a cure for this rapidly growing disorder. Autism Speaks is the largest Autism organization that funds research to find a way to diagnose autism and ultimately cure the developmental disorder nationwide. Threshold Center for Autism provides family-centered care for children and adults with autism here in the Orlando community.
Dodgebrawl is an opportunity for the UCF Greek community to learn about the effects of Autism in America and help support research. For more information or to get involved, contact Kristyn Oramas or Shelbi Lovering, Alpha Xi Delta Dodgebrawl chairs, at 954.257.4633 and 813.323.1502 respectively or email: AXiDDUDodgebrawl@gmail.com.