More than 200 guests gathered at the James M. Seneff Plaza to celebrate the campus' transformational effect in downtown Orlando on Thursday, Feb. 10. The crowd represented dedicated donors and community partners; business and industry leaders; government champions; and UCF and Valencia College students, faculty, and staff.
Reflecting on the shared vision of the downtown campus, UCF President Alexander N. Cartwright thanked the many donors and elected officials who helped make the campus a reality, which provides access to education in the urban core of Orlando.
"UCF Downtown and Valencia College Downtown is more than a collection of buildings. It is a place where discoveries and innovations are to be made by the faculty who research and create here, and countless students will have the opportunity to change their trajectory fueled by the power of the education they receive here," says Cartwright.
Orlando City Commissioner Regina Hill spoke of the impact the campus has already had on the city of Orlando — especially on the Parramore neighborhood. With the shared campus in Parramore, she says, "We have the most robust educational ecosystem in the entire state."
Hill also highlighted the vast opportunities that exist at the campus today — from short term job training to 2-year and 4-year degrees — opportunities that didn't exist for residents like her when she was growing up in the neighborhood.
Among the donors who made the campus possible was James M. Seneff, for whom the plaza and fountain are named. Seneff is the chairman and founder of CNL Financial Group, a private investment management firm.
"I founded CNL in 1973 in the City of Orlando," says Seneff. "Next year will be our 50th anniversary and we have seen the downtown area grow from a retail district to a major business center. I have long been a proponent of the UCF expansion to downtown Orlando believing that it would create a special catalyst for future growth."
Seneff, who is a longtime supporter of UCF and downtown Orlando, made one of the earliest donations to UCF Downtown and helped the university secure additional funding from the state.
Guests at the event dined on authentic soul food from Parramore's Nikki's Place and Chef Eddie's Catering and got a taste of Black Bee Honey, organic honey that is harvested through a youth entrepreneurship program operated by the Orlando Community and Youth Trust in Parramore.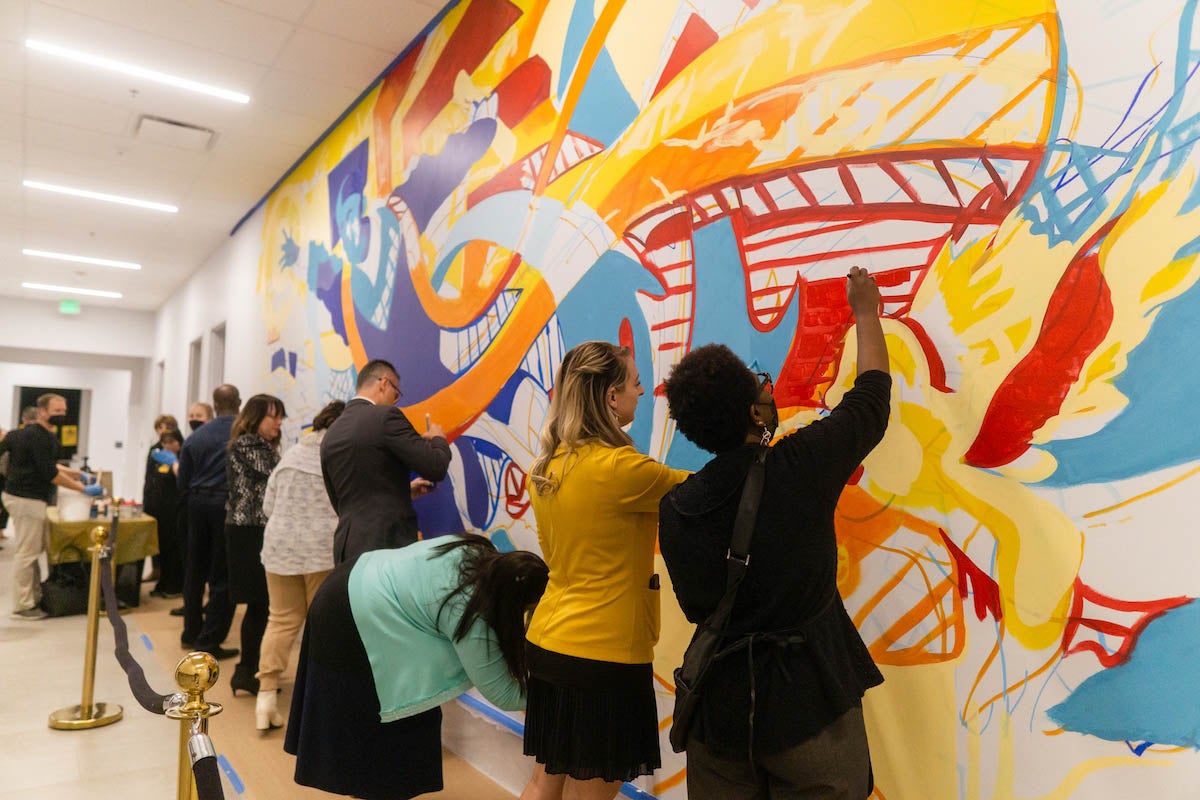 In addition, artist Christian Stanley '11 invited guests inside the Dr. Phillips Academic Commons East Wing to assist in painting Elevation, a new mural that he hopes will remind viewers of the opportunity that education provides for people to reach new heights and forge a new path in life. The celebratory event concluded with a special ceremony where donors poured water from the UCF Reflecting Pond on main campus into the Seneff Plaza Fountain, symbolizing partnerships and forever linking together the two campuses.