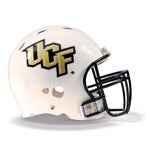 Fans eager to UKNIGHT behind the UCF football team in 2010 and enjoy the great game day atmosphere at Bright House Networks Stadium, but are unable to make all six home games, can now purchase customized mini packs which start at just $66 for three games.
Tickets are at a discounted rate of $22 per game with the exception of the NC State game (Sept. 11). Seating is based upon availability and limited to the end zone. Tickets for the NC State game will be $30.
The flexible mini pack allows fans to pick a minimum of three out of the team's six home games and save over the single game prices.
UCF has home games this fall against South Dakota (Sept. 4, time TBA), NC State (Sept. 11, 7:30 p.m.), UAB (Wed. Oct. 6, 8 p.m.), Rice (Oct. 23, time TBA), East Carolina (Oct. 30, time TBA) and Southern Miss (Nov. 13, 12 p.m.).
Tickets can be purchased online at UCFAthletics.com or by calling (407) 823-1000.