A group of engineering students are repairing a sculpture of Pegasus vandalized two weeks ago.
The "Wind Dancer" sculpture of Pegasus that sits in front of the Burnett Honors College was damaged on Sept. 3 after UCF's first football game of the season. Security camera video captured a man trying to climb atop the winged horse, which was left bent and staring skyward. Despite the offer of a reward, police have not yet caught the vandal.
Burnett Honors College alumnus Jeff Douglass, '02 — the founder and CEO of Cybis Communications who contributed significantly to the original cost of the sculpture in 2007 — has offered to cover the cost of repairs. As it turns out, those costs should be minimal.
College of Engineering and Computer Science Professor Ali Gordon recruited several seniors majoring in mechanical and aerospace engineering to repair the sculpture. Students Jennifer Ambrose, Anthony Defilippo, Cullen Fitzgerald and Chad Robinson removed it from its base on Tuesday and moved it to the Manufacturing Lab at the College of Engineering and Computer Science, the same lab where the Limbitless team produces 3D-printed arms and hands for children.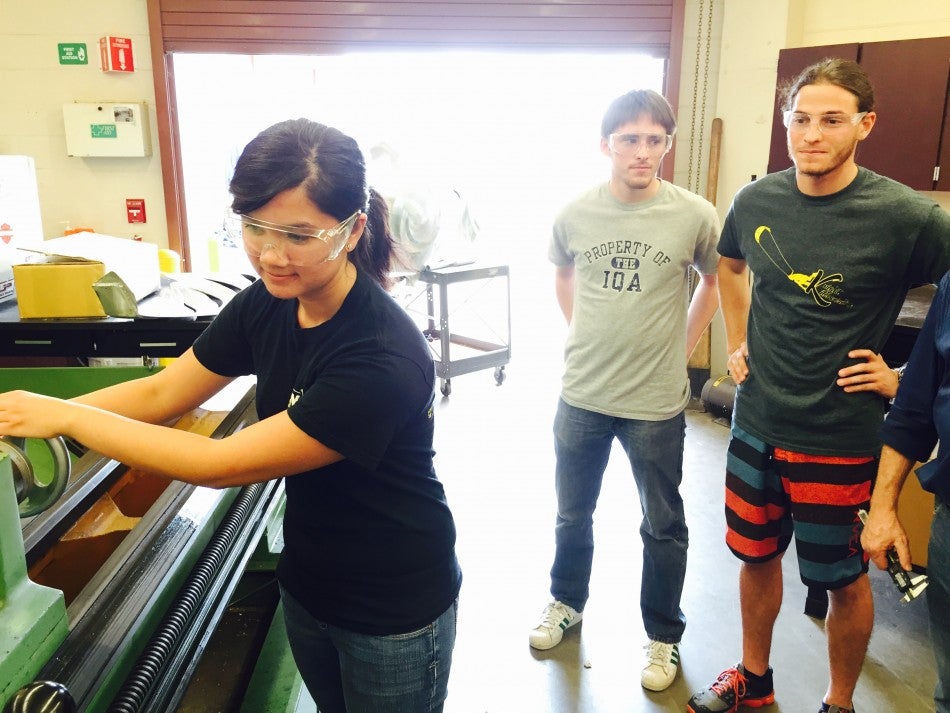 The students found that the vandal's rough treatment of the relatively delicate aluminum sculpture had sheared off its mount and caused several pieces of its "mane" to come loose.
On Wednesday, Ambrose, Defilippo and Fitzgerald designed a new mount for the sculpture and used a machine lathe to begin forming it. They expect to weld the aluminum sculpture where needed on Thursday, with the hope of having it back in place before the next home football game this Saturday.
"It should be sturdier after we fix it and make these modifications," Defilippo said.
Gordon's research focuses on fatigue that causes materials to fail after repeated stress. The damage to Wind Dancer is a good example, he said, and provides his students with an opportunity to see material failure in the real world.
"Faculty often think of themselves as the best source of knowledge for their students, but there's no replacing experience," Gordon said. "This provides a good hands-on experience for students to apply what they've learned."