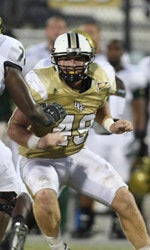 While reaching five consecutive bowl games would be considered a major accomplishment for many programs, Rutgers' recent success has some Scarlet Knights fans wanting more.
Central Florida, meanwhile, is just happy to be bowl bound after a one-year absence.
The Scarlet Knights will try to make it four bowl victories in a row when they face the Knights for the first time in the St. Petersburg Bowl on Saturday night.
Rutgers (8-4) made it to yet another postseason game this year after going 8-5 and beating North Carolina State 29-23 in the PapaJohns.com Bowl in 2008. Some Scarlet Knights supporters, however, have been waiting for their team to take the next step and make it to a BCS bowl after Rutgers went 11-2 and achieved a top 10 ranking in 2006.
The raised expectations stem from coach Greg Schiano's success in turning around a program that failed to reach a bowl game from 1979-2004.
"I think people need to take a deep breath and realize that," Schiano said. "There's a lot of football teams in this country that would like to go to five straight bowl games.
"Some would call it not at the level they expect and I apologize for that, but the reality is five straight bowls is five straight bowls. We're going to get to the top, but this is part of the process. I remember going to our first bowl game and everybody was giddy. Don't take things for granted. I know I don't. I know our players don't."
Rutgers got off to a poor start this season with a 47-15 loss to Cincinnati, the eventual unbeaten Big East champion. The Scarlet Knights then won seven of eight to crack the poll at No. 25, but lost 31-13 at last-place Syracuse on Nov. 21 and fell out immediately.
That defeat was the first of two in the Scarlet Knights' last three games. Rutgers dropped its finale 24-21 to then-No. 24 West Virginia on Dec. 5 and earned the St. Petersburg Bowl berth after going 3-4 in the conference.
"Right now, we are who we are," Schiano said. "I'm not ashamed of who we are. … We're going to become great, but right now we're not great."
Rutgers' inconsistent season was due in part to freshman Tom Savage, who was last in the Big East with a 52.3 completion rate while throwing for 1,917 yards, 12 touchdowns and six interceptions.
He struggled in the four losses, completing three TD passes with five picks and suffering 19 of his conference-high 34 sacks.
Rutgers' ground attack is led by sophomore Joe Martinek, who rushed for 923 yards and a team-high nine touchdowns while averaging 4.8 yards per carry.
Martinek, though, was limited to 194 yards and one touchdown over the last three games.
Now, he will face a UCF team that ranks fourth in the nation in rush defense at 82.5 yards per game. The Knights (8-4), though, looked vulnerable in that area in their Nov. 28 finale, allowing a season-high 205 yards on the ground in a 34-27 win over UAB.
End Bruce Miller keys the UCF defense. The junior was fifth in the nation with 12 sacks and was named Conference USA defensive player of the year.
The Knights, who will be playing about 100 miles from campus, reached their third bowl game in five years. They didn't make it to one last year, however, and lost their previous two.
They split their first six games this season before winning five of six, highlighted by a 25-21 upset of then-No. 13 Houston on Nov. 14.
Coach George O'Leary hopes making it to St. Petersburg will be a stepping stone to UCF becoming a postseason regular.
"I think the big thing that people have to realize when you go to bowl games, there's a reason that the same teams go over and over and over again," he said. "Any time you can win before you start heading into your winter conditioning program just leaves a great taste in your mouth."
Brett Hodges will try to end his college career in strong fashion. The senior threw for 705 yards with five touchdowns and four interceptions in leading UCF to wins in its final three games. Those came after he missed a 35-3 loss at second-ranked Texas on Nov. 7 due to injury.
Source: ESPN, original story, stats and more at ESPN.