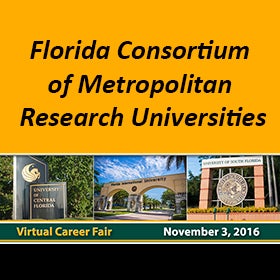 The Florida Consortium of Metropolitan Research Universities, a partnership between Florida International University, University of Central Florida and University of South Florida is set to host its second annual fall Virtual Career Fair. This must attend event is open to students and alumni from FIU, UCF and USF and will take place on Nov. 3, 2016.
Join us to meet with employers like, Amica Mutual Insurance, Enterprise Rent-A- Car, The Hartford and many more. Not sure you should participate? Here are our Top Ten Reasons to participate in a Virtual Career Fair:
Virtual Career Fairs are convenient and can be accessed from "virtually" anywhere.
Attending virtually also means no travel costs are required to participate.
Attendees can meet with several potential employers in one day.
A Virtual Career Fair is great opportunity to speak directly with recruiters instead of just or in addition to submitting a resume online.
VCF's provide easy access to a range of companies that attendees may not have known about or considered prior to the event.
Participating provides an alternative way to learn about job openings and hiring processes from company representatives that could be helpful now and in the future.
Participating provides direct access to jobs in additional geographic locations.
VCFs are a great way to expand one's network of contacts prior and or post-graduation.
Attendees can pose questions directly to recruiters, hiring managers, and company representatives.
Attendees can practice interviewing in an online setting.
Are you looking for a full time job, internship, co-op or fellowship? If so, don't delay, register for the Florida Consortium of Metropolitan Universities 2016 Virtual Career Fair today.