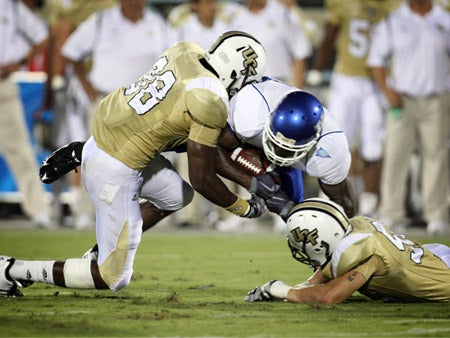 UCF is well rested off of a bye week as it prepares to play host No. 9/11 Miami on Saturday night at 7:30 p.m. A year ago the Knights fell narrowly to the Hurricanes, 20-14 but, with an improved offense in 2009, hope to get over that hump on their home field. A capacity crowd is expected, but fans can watch live on CBS College Sports.
THE OPENING DRIVE
Halfway to bowl eligibility at 3-2 on the season, UCF is 5-3 in its last eight games overall.
UCF ranks first in Conference USA, and 15th in the nation, in rushing defense.
The Knights have 14 completions of 20 yards or longer so far in 2009 after having just 12 all of last season.
Six different Knights have a catch of at least 20 yards through five games this year after having just four different receivers do so in 2008.
UCF is looking for its second ACC win in three years (NC State).
Resilient Knights have a winning record despite not leading at the half. UCF holds an 82-39 second half scoring edge and rallied to win three times and get to an onsides kick in each loss.
UCF is 14th nationally in red zone defense and trails only Virginia Tech in touchdown percentage amongst schools that have faced at least 14 red zone possessions.
Brynn Harvey's 42-219-1 rushing effort vs. Memphis is the nation's most carries and sixth-most yards in a game so far this year.
UCF has been able to consistently move the ball and string together some long scoring drives. Turn to page three for notes.
Bruce Miller and Jarvis Geathers are tied for the C-USA lead in sacks and rank 19th in the nation.
UCF has ranked amongst the nation's best on special teams all season. UCF is presently second in punt coverage, ninth in kickoff coverage, ninth in kickoff returns and 31st in punt returns.
Nick Cattoi is 12th in the nation in field goals and first in C-USA.
BY THE NUMBERS
3 – The Knights are 11-5 all-time at BHNS and 3-0 so far in 2009.
107.2 – Brynn Harvey's rushing average of 107.20 yards per game ranks 16th in the nation.
13 – UCF and Miami are tied for 13th in the nation in TFLs (7.80 per game).
4 – UCF is fourth in C-USA in passing efficiency after ranking 12th last year.
TEAM NOTES
RESILIENT KNIGHTS SHOW THEIR HEART
No mountain has seemed too steep for the Knights in 2009 as the team is 3-2 despite never leading at the half. Even both of UCF's losses nearly saw the Knights rally to win as both games dramatically got down to onside-kick situations. The Knights have been outscored 61-34 in the first half this year and outscored opponents 82-39 after intermission.
29 WAS FINE
UCF scored 29 second-half points to secure its C-USA win over Memphis. It was the most points that UCF had scored in the second half of a game since scoring 31 at Buffalo on Nov. 9, 2002.
DON'T CALL IT A COMEBACK
UCF trailed defending MAC Champion Buffalo 17-7 at the half on Sept. 19 but scored 16 unanswered second-half points to win the game 23-17. It marked the first time the Knights rallied back from a double-digit deficit to win since Nov. 19, 2005. UCF trailed Rice by 12, 21-9, at the half in Houston before rallying to win 31-28.
KNIGHTS HAVE WINNING RECORD THROUGH FIVE
For the second time in three years and the third time in five years, UCF stands with a winning record through five games at 3-2.
OFFENSE NOTES
THE BIG PLAY IS BACK
UCF promised to get more dynamic on offense this year and thus far has delivered. The Knights have 14 passing plays of at least 20 yards through five games. In all of 2008, UCF had a total of just 12 completions of 20 yards or more. Six different Knights have a catch of at least 20 yards already this year while only four did all of last year.
KNIGHTS ABLE TO PUT LONG DRIVES TOGETHER
A clear sign of UCF's improved offense in 2009 is its ability to sustain long drives. UCF has had four scoring marches of at least 11 plays through its first five games this year after having just five in 12 games a year ago. UCF had scoring drives of over 8:30 against both Southern Miss and Buffalo, a feat it had not accomplished since 2007.
– Against the Bulls, UCF had two separate 14-play scoring drives. It was the first time that UCF had two scoring drives of at least 14 plays in the same game since the 1993 NCAA Division I-AA Playoffs at Youngstown State.
– Against Memphis, UCF secured the victory with a 92-yard fourth quarter touchdown drive, its longest march since a 99-yard drive against Marshall in 2007 and tying for the second-longest of the six-year George O'Leary era. It all adds up to first downs. UCF's 28 vs. Memphis were its most in a game since ECU on Oct. 6, 2007.
HE'S THE GUY-TON
Wide receiver A.J. Guyton missed the entire 2008 season with an injury but showed that he was back to his old self at East Carolina, hauling in a career-high nine passes for 119 yards. The nine receptions tied for the most by a Knight since current Jacksonville Jaguar Mike Sims-Walker caught 13 passes against Rice on Oct. 21, 2006.
HARVEY'S DANGEROUS FOR OPPONENTS
Sophomore Brynn Harvey is 16th in the nation in rushing, averaging 107.20 yards per game. Harvey ran for 219 in UCF's win over Memphis, the sixth-highest total in a nation in a game this year. He proved to be a workhorse in that game, carrying the ball 42 times, third-most in school history and the most nationally this year. He ran for 111 yards and two scores in UCF's season-opening win over Samford. It was just the second time in the FBS era (since 1996) that a Knight eclipsed the century mark on opening day. He narrowly missed having another against Buffalo, ending up with 98. Harvey has six rushing touchdowns through five games. UCF as a team had just eight all of last year.
BRETT PLAYING LIKE A VET
Senior Brett Hodges assumed the role of starting quarterback with his steady play in the first two games. He did not disappoint in his first start against Buffalo, completing 15-of-20 passes and piling up 212 yards of total offense (71 rushing, 141 passing) in the win. His 266 passing yards at East Carolina were the most by a Knight since Kyle Israel had 313 on Oct. 6, 2007, also at East Carolina. Behind Hodges, UCF is fourth in C-USA in passing efficiency a year after ranking 12th in the league. To earn the starting nod, Hodges had come off of the bench behind Rob Calabrese in the first two games and went 25-for-43 for 287 yards with three touchdowns and one INT.
ROCKY V
Wide receiver Rocky Ross is in his second senior year after earning a medical redshirt in 2008 due to a broken collar bone suffered at UTEP. As a junior, Ross led the Knights with 50 receptions and 658 yards for an average of 47.0 yards per game. He has started 2009 where he left off, leading UCF thus far with 17 catches, 220 receiving yards and ranking third on the team with 317 all-purpose yards.
DEFENSE NOTES
HALLMAN STOPPING EVERYONE IN HIS PATH
Safety Derrick Hallman led UCF in tackles in back-to-back games vs. Buffalo and at ECU and currently paces all Knights with 39 tackles in 2009. Meanwhile, he notched UCF's first interception of 2009 when Buffalo was trying to take the lead with less than three minutes left in the fourth quarter. One week later vs. the Pirates, he racked up 13 tackles. Only Cory Hogue had collected 13 tackles (13 vs. UTEP No. 24, 2007) or more dating back to Jason Venson's 14 against ECU on Nov. 4, 2006.
BRUCE IS LOOSE
C-USA's sack leader, Bruce Miller had 3.5 TFLs, including 2.5 sacks, in UCF's win over Memphis. For the year he has 6.5 TFLs and 4.5 sacks, tying him for 37th and 19th nationally in those categories.
JARVIS GATHERS SACKS
Jarvis Geathers played a huge role in UCF's come-from-behind win over Buffalo, recording three second half sacks, forcing fumbles on two of those which were recovered by the Knights. One of the fumbles set up the game-tying field goal and the other effectively ended the game with 0:26 to play. He ranks 19th in the nation in sacks and first in Conference USA, tied with teammate Bruce Miller.
HERE'S TO YOU MR. ROBINSON
True freshman Josh Robinson made his first career start on Sept. 12 at Southern Miss and came away leading the Knights with a total of 10 tackles, all of them solo. He also broke up a pass against the Golden Eagles. Robinson got his first career interception against Memphis. He ranks fourth on the team with 29 tackles, including a TFL, an INT and four PBUs.
YOUNG IS RESTLESS
Through five games in 2009 junior linebacker Lawrence Young has six TFLs. He also has a sack, interception and fumble recovery to his credit in 2009. Young is third on the team with 35 total tackles.
CONTINUING TO BRING THE PRESSURE
UCF ranks 13th in the nation, and second in C-USA, in TFLs with 7.80 per game, continuing its 2008 pace where UCF was third nationally at 8.17 TFLs per game. A total of 13 Knights have at least half of a TFL.
BEND BUT DON'T BREAK
UCF has seen opponents reach the red zone 14 times this year but come away with just five touchdowns (36-percent). Of all teams nationally with at least 14 red zone possessions against, only Virginia Tech (6-for-22, 27-percent) has done better than UCF at keeping teams out of the end zone. Overall, UCF is tied for 14th in red zone defense at 71 percent.
NALL ALL-IN AGAIN
Darius Nall has appeared in all four games at defensive end and leads the Knights with three pass pressures. That he is playing at all is a miracle as he missed all of the 2008 season while undergoing treatments for cancer. Nall was a member of the 2007 C-USA All-Freshman Team.
SPECIAL TEAMS NOTES
COVERING LIKE A BLANKET
UCF has proven quite adept at covering its punts and kickoffs thus far in 2009. UCF ranks second in the nation in punt return yardage against and ninth in kickoff return yardage against. With punter Blake Clingan's improved hang time, UCF foes have returned just three of his 20 punts for a total of minus-two yards (-0.67 avg.). Only Florida Atlantic is better at minus-eight yards on two returns (-4.00 avg.). UCF has yielded 389 yards on 22 kickoff returns against (17.68 avg.) this year.
NINTH IN THE NATION IN KICKOFF RETURNS
UCF is excelling in both phases of kickoffs as the Knights also rank ninth in the nation with an average of 28.00 yards per kick return. Meanwhile, the Knights are a solid 31st in punt returns as well, averaging 11.89 yards per try.
THREE RETURNS OVER 70 YARDS
By the season's second week, UCF had three different players return a kickoff for at least 72 yards. Quincy McDuffie had a 95-yard touchdown against Samford, Jamar Newsome had an 89-yard run back at Southern Miss and Darin Baldwin had a 72-yard return against Samford. It marks the first time in UCF history that the Knights have had three separate players run a kickoff back at least 70 yards in the same season. Newsome's has the dubious honor of being the longest non-scoring play in UCF history.
UCF IS ONE OF SEVEN
UCF, Arkansas, Clemson, FIU, Kansas State, Ohio and Texas are the only teams in the nation that have returned at least one kickoff for a TD in the 2007, 2008 and 2009 seasons.
McDUFFIE'S: I'M LOVIN IT
True freshman Quincy McDuffie had an auspicious debut for the Knights against Samford. The Orlando native ran a kickoff back 95 yards for a touchdown. It was the sixth-longest return in school history. Curiously, of UCF's 12 all-time kickoff return touchdowns, six have been by freshmen. McDuffie's was the first in a season-opener.
NOT A ROCKY DEBUT
Rocky Ross has seen his first career action as a punt returner this year, replacing All-American Joe Burnett. Ross' 13.86-yard average ranks 16th nationally and is not far off of Burnett's 2008 average of 14.5 yards.
THREE YEARS IN A ROW
With McDuffie's kickoff return touchdown, UCF has now returned a kickoff for a touchdown in three consecutive seasons for the first time in school history. Joe Burnett ran back kickoffs for scores against USF and Miami last year. In 2007, Curtis Francis had one against East Carolina and Khymest Williams also had one against SMU.
UCF SETS RECORD VS. SAMFORD
UCF had a combined 289 yards of special teams yardage vs. Samford (190 kickoff returns, 99 punt returns). This is a FBS-era (since 1996) school record eclipsing the 281 yards (240/41) that UCF had against East Carolina in 2007.
SERIES NOTES
UCF VS. MIAMI
UCF is 0-1 all-time against the Hurricanes after dropping a 20-14 decision last year in Miami Gardens. The Knights got their touchdowns on a kickoff return for a touchdown by Joe Burnett and an interception return for a touchdown by Johnell Neal.
MIAMI KNIGHTS
While it is hard to define the region of "south Florida" it certainly does include Dade and Broward Counties, the home of nine UCF starters. Knights from the south Florida area include Kamar Aiken (Hollywood), Corey Ammons (Miami), Darin Baldwin (Homestead), Ian Bustillo (Miami), Mike Buxton (Bonita Springs), Jack Carter (Miami), Blake Clingan (Coral Springs), Rey Cunha (Miami), Lyle Dankenbring (Stuart), Michael Dominguez (Miami), Nico Flores (Miami), Dontravius Floyd (Homestead), Kevin Garvy (Palm Beach), James Getsee (Miami), Michael Greco (Fort Lauderdale), A.J. Guyton (Homestead), Derrick Hallman (Fort Pierce), Omar Hansborough (Homestead), Rashidi Haughton (Miami), Cory Hogue (Naples), Kemal Ishmael (Miami), John Lubischer (Boca Raton), Cliff McCray (Miami), Jarien Moreland (Belle Glade), Nick Pieschel (Fort Lauderdale), Jordan Rae (Weston), Josh Robinson (Sunrise), Jarrett Swaby (Belle Glade), and D.J. Williams (Fort Lauderdale).A UNIQUE CONNECTION
UM head coach Randy Shannon received the 2009 Keith Tribble Trailblazer Award from the Orange Bowl Committee, an honor named for the UCF Director of Athletics and former OBC CEO…Amongst more direct connections, UCF offensive line coach Brent Key (2002) was both on the Georgia Tech with Miami running backs coach Tommie Robinson in 2002…Miami assistant coach Michael Barrow coached UCF wide receiver A.J. Guyton and Omar Hansborough their senior year (2006) at Homestead High School…Miami offensive line coach Jeff Stoutland was a graduate assistant at Syracuse in 1986 with UCF head coach George O'Leary.
THE VIEW FROM THE TOP
UCF is welcoming a ranked team to Bright House Networks Stadium for the third year in a row. The Knights almost came away with a win in each of the first two instances. No. 6 Texas came to Orlando on Sept. 15, 2007, and nearly left with a loss as the Longhorns escaped with a 35-32 win. Last fall, No. 17 USF made the short drive across I-4 on Sept. 6 and the Knights gave the Bulls all that they could handle, taking the game to overtime before falling, 31-24.
MISSION ACC-EPTED
UCF is looking for its second win over an ACC team in three years. The Knights beat NC State, 25-23 in Raleigh on Sept. 1, 2007.