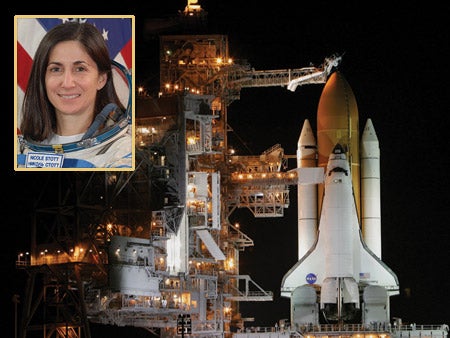 NASA has assigned the crew for the last scheduled space shuttle mission, targeted to launch in September 2010. The flight to the International Space Station will carry a pressurized logistics module to the station.
Veteran shuttle commander and retired Air Force Col. Steven W. Lindsey will command the eight-day mission, designated STS-133. Air Force Col. Eric A. Boe will serve as the pilot; it will be his second flight as a shuttle pilot. Mission Specialists are shuttle mission veteran Air Force Col. Benjamin Alvin Drew, Jr., and long-duration spaceflight veterans Michael R. Barratt, Army Col. Timothy L. Kopra and Nicole P. Stott.
Stott is in the midst of her first mission as a flight engineer aboard the station with Barratt for Expeditions 20 and 21. She launched aboard STS-128 on Aug. 28 and is due to return at the end of STS-129, targeted for launch Nov. 12. She was born in Albany, N.Y., and considers Clearwater, Fla., her hometown. She has a bachelor's degree from Embry-Riddle Aeronautical University and a master's degree from the University of Central Florida.
For more information about NASA's Space Shuttle Program, visit NASA.