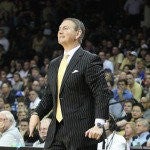 As his team finally concluded an unusual day, UCF head coach Donnie Jones refused to make excuses for his team. After traveling during the day from Orlando to Omaha, the Knights concluded their season with an 82-64 loss at Creighton in the CBI semifinals.
UCF (21-12) certainly looked like a team that had spent the day crammed into a charter plane, and arrived in Nebraska less than five hours before gametime. But after the game, Jones gave credit to a Creighton (22-14) team that improved to 18-3 at the Qwest Center Omaha. He told reporters what his team could have done to achieve more success against the Bluejays, like crash the boards and defend better on the perimeter, but he mostly reflected on an eventful and successful season in only his first campaign in Orlando.
The Knights won at least 20 games for just the sixth time since joining the Division I ranks in 1984. UCF posted non-league wins over No. 16 Florida, Miami and USF, and entered the national rankings for the first time in school history. In Conference USA play, the squad knocked both UTEP and Southern Miss out of first place. And in the CBI, the Knights picked up their first two postseason wins at the D-I level, defeating strong St. Bonaventure and Rhode Island teams.
"I am proud of this basketball team," Jones said. "I am proud of how we competed all year long. We made some strides. We have some guys who will come back and be the focal point."
The Bluejays raced out to a 15-5 lead and never looked back. The hosts shot 56.7 percent overall and 50.0 percent (5-of-10) from 3-point range in the opening half, when Creighton forced 13 UCF turnovers. As a result, the Bluejays took a 44-23 edge into halftime.
The game capped an unusually hectic day for the Knights. The team was unable to leave Orlando until 9 a.m. Wednesday. The travel party arrived via charter plane in Omaha around 2:30 p.m. local time. Typically UCF travels the day before games.
"(That) is not our team, and how we competed tonight," Jones admitted when asked if the travel helped contribute to the loss. "But that is part of playing in a tournament is about."
UCF played better in the second half, shooting 58.3 percent overall and outscoring Creighton 41-38.
The Knights were led by Keith Clanton, who totaled a game-high 26 points on 9-of-12 shooting. Reserves A.J. Rompza and Isaiah Sykes both added 12 points. Sykes grabbed a game-high six rebounds.
Creighton shot 57.7 percent from the floor for the game, and 46.7 percent from deep. Gregory Echenique led the hosts with 19 points. He was one of five Creighton players who finished with double figures in scoring.
"Give credit to Creighton. They are a very good basketball team," Jones said. "They were aggressive and played with an edge. Our kids kept competing. This tournament is about the future as much as it is about the now. There were a lot of positives from playing in this tournament."