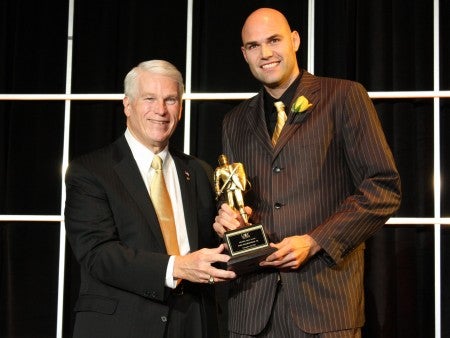 Five distinguished alumni from the College of Business Administration were honored during the recent Black and Gold Gala held during Homecoming Week. Awards were presented to:
Rising Star Award: Erik Lembcke, '06. Lembcke received his BSBA in finance. While at UCF he served as a member of the Financial Managers Association (FMA) and Res Ipsa Lequiter (Law Society). Lembcke assisted with the organization of the UCF Real Estate Club and is an active volunteer for the UCF Dr. P. Phillips School of Real Estate, where he has spoken to students in the classroom and at events. He currently serves as the NAIOP Developing Leaders Committee Chair and as the Community Service Chair for the CBA Alumni Chapter Executive Committee. In addition to his commitment to UCF and the community, he is currently employed by Sun Trust Bank as a Financial Services Representative.
Professional Achievement Award: Alex Martins, '01. Martins received his Master of Business Administration degree. Not only has he been a leader in sport business throughout the Central Florida community, but also plays a key role in UCF's nationally-recognized DeVos Sport Business Management Graduate Program. Martins was a key advisor to the dean of the college and the committee designing the DeVos program curriculum. Martins has maintained his close association with the DeVos program, serving as a mentor and leader to all students in the program. Martins is a member of the CBA Dean's Executive Council and a member of the Hall of Fame. He is also a leader within the Orlando community, and has been instrumental in developing the new downtown events center that will be home to the Orlando Magic.
Distinguished Student Award: Lalita Booth, '09. Booth, who graduated earlier this year, has demonstrated leadership and academic excellence and is now acknowledged as one of UCF's elite. An Accounting and Finance major, she graduated Summa Cum Laude and was recognized as the CBA's Top Honor Graduate for her exceptional GPA. Formerly homeless and a high school dropout, Booth is currently a graduate student at Harvard University and is a Jack Kent Cooke Continuing Graduate Scholar and a Truman Scholar. In 2008, Booth was recognized as one of Glamour Magazine's Top Ten College Women based on her leadership and personal involvement in the community. In addition to her awards, she founded the Lighthouse for Dreams Financial Literacy Project. Her program is dedicated to teaching disadvantaged teens, adult learners and high school students the principles of sound financial management. She also serves as a free tax advocate and return preparer for low-income filers.
Michelle Akers Award: Phil Dalhausser, '02. Dalhausser received a B.S.B.A. in Business Administration. This award is named for the World Soccer Hall of Fame star and UCF alumna Michelle Akers and is presented annually to an alumnus who is recognized in their chosen career on an international scope. Dalhausser and his teammate Todd Rodgers won the beach volleyball gold medal for the U.S. team during the 2008 Beijing Olympics.While at UCF Dalhausser played on a club volleyball team. In addition to receiving an award, Dalhausser served as a grand marshal during the Homecoming Parade.
Community Service Award: Karl Palvisak, '83. Palvisak is a CPA and has a degree in Accounting. He received this award for his many years of volunteering in the community at organizations such as the Boy Scouts of America, Tipisa Lodge, Common Cent's Campaign and the UCF Alumni Association. In addition to his commitment to UCF and the community, he is the Vice President and Chief Financial Officer of GAI Consultants.
For more photos of the 2009 Black & Gold Gala, visit the UCF Alumni Association Web site.