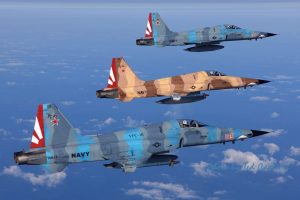 As a UCF student, Bradley Miles drove a beat-up RV to the Knights' home football games at the Citrus Bowl.
Now a Navy lieutenant, Miles will make his first trip to Bright House Networks Stadium on Saturday aboard a fighter jet. He'll be the pilot of one of two F-5 Tiger II jets that will fly over the stadium during pregame Military Appreciation Day ceremonies.
The UCF-Missouri game, which will kick off at noon, will feature several military recognitions throughout the contest and Vietnam-era military vehicles and a mobile museum on IOA Plaza before the game. The flyover featuring LT Miles and LT Peter Langley will follow the national anthem. After landing, the pilots will drive to Bright House Networks Stadium to watch the game, and they will be recognized on the field during a break in the action.
Miles, who graduated in 2003 with a degree in aerospace engineering, has flown over NASCAR races, Miami Dolphins games and a ship dedication. He said the opportunity to return to his alma mater makes Saturday's flyover his most exciting to date.
"I feel extremely lucky every day that I decided to attend UCF," he said.
Miles said UCF's engineering classes gave him the technical knowledge he needed to enter flight school well prepared. Serving on the President's Leadership Council – a group of student ambassadors who help President Hitt host university events and guests – provided him with leadership training and experience.
Miles studied abroad in Sweden for a semester, and he was a member of the Sigma Alpha Epsilon fraternity.
A West Palm Beach native, Miles attended Navy flight schools for nearly four years after graduating from UCF. Six months after joining a Navy fleet squadron, he was flying combat missions in Iraq.
"My time in Iraq – seven months away with limited communication — made me appreciate my family time," he said. "As service members, we get a lot of appreciation. But I think family members are due more appreciation – they don't get as much as they deserve."
Now based in Key West with the VFC-111 Sun Downers squadron, Miles serves as a Navy flight instructor.
He fondly remembers driving his beat-up RV to the Citrus Bowl in downtown Orlando and setting up a satellite dish so he and his friends could watch other games while tailgating.
On Saturday, all eyes will be on Miles as he thrills the crowd while fulfilling a dream of his own.