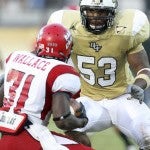 The calendar has turned to July, the point where the countdown to the start of UCF preseason football camp on August 5 is measured in weeks and not months. That subtle change is not lost on junior defensive end Darius Nall.
"I'm ready," he says with a big smile. "I'm so fired up. I'm dying (to get out there). It's going to be a good year. I'm just so ready to get on the field and get it started."
In his exuberance to express his excitement about a season where most prognosticators have UCF as the favorite to win Conference USA's East Division, Nall, who battled cancer and survived, most likely didn't realize that he had used the word "dying," but it is a poignant word for the Atlanta-area native who has been through so much.
By now the inspirational story has been well-told about how the 2007 C-USA all-freshman team selection learned the following summer that he had a cancerous baseball-sized mass in his chest that required surgery and then chemotherapy during the 2008 season. He spent the year in-and-out of doctor's offices with the regularity that he would have hoped to be in-and-out of the huddle but Nall made it through his cancer treatments.
The year away from competition didn't slow Nall much in 2009 as he played in all 13 games as a part of a stellar defensive end rotation that helped the Knights rank fourth in the nation in rushing defense and lead C-USA in rushing, total and scoring defense along with sacks and tackles for loss. Nall himself contributed four of those sacks and proved to be a solid pass rusher during the season, seeing the bulk of his action in UCF's nickel package.
But, while 2009 was a solid redshirt freshman season for Nall on the field, in many ways he is now preparing for the sophomore year that he was deprived of 2008. Nall finally has a chance to put two seasons at UCF together and build off of the momentum of 2009 in a conventional manner. Joining forces this fall with Bruce Miller, David Williams and Troy Davis, the Knights should once again give opposing offensive tackles ample amounts of worry come game days.
"It's a whole new outlook for me right now," Nall said. "I'm not just coming back. Now I'm solely focused on how I can make myself and our team better just the same as anyone else."
It will be hard to improve on UCF's defensive end position in particular which includes stalwart David Williams at one starting end and the nation's sack leader, Bruce Miller, at the other. While the unit does lose Jarvis Geathers who had 11 sacks last year and could have been a solid NFL Draft pick in April were it not for an unfortunate injury in training, the unit does gain Troy Davis. The sophomore from metro-Atlanta was one of the team's most watched players during spring practice and will be a fun player to watch this fall if he continues to break through opposing protections with such regularity.
"I like this group," Nall said of his fellow linemen. "We all bring the same thing. They're going to get to the quarterback. They have determination and speed. Everybody's just ready to go. I love that about the line. That depth is good because you can go full speed every play and know that someone will be coming in who can do the exact same thing. You push each other every single day. It's fun."
In between classes and other activities in Orlando, Nall did take a few days off around Independence Day to not only celebrate America's independence but also his own independence from cancer.
"I went back home for the Fourth of July," Nall said. "It was around the anniversary of my first cancer surgery. I was with my family for July 4 and we had a big thing. It brought back memories of two years ago and it was nice to be around my family for the weekend.
"Hopefully this year will be a little different and be about what I've done on the field and not what happened to me. It's always in the back of my mind, but football is key and it's great to be like everyone else right now."
To UKNIGHT behind your team and receive your free Knights Rewards Card's valuable discounts, reserve your 2010 football season tickets today. Call the UCF Athletic Ticket office at (407) 823-1000 or log onto UCFAthletics.com.