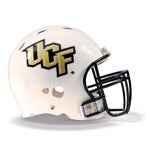 Linebacker Ray Cottman (Tucson, Ariz.) and defensive end Toby Jackson (Griffin, Ga.) both signed National Letters of Intent on Wednesday, the first day of the junior college signing period, to join the UCF Knights in 2011.
Jackson was the Defensive MVP of the Junior College National Championship Game as Navarro (Texas) won 13-12 over Butler (Kan.). Jackson had a pair of fourth quarter sacks, one of which forced a fumble, and added two tackles for loss, one of which was on a two-point conversion play in a game ultimately settled by just one point. Jackson was a high school All-American, a member of the Atlanta Journal-Constitution's Super 11 and the state 4A Defensive Player of the Year.
Cottman made 88 tackles with 4.5 sacks, an interception, four forced fumbles, and five fumble recoveries this past fall at Glendale (Ariz.) Community College. He was a second team all-state pick in high school and an all-region selection as both a linebacker and tight end.