An off-season doesn't really exist these days for UCF women's soccer head coach Tiffany Roberts Sahaydak and Knights softball head coach Cindy Ball-Malone. The super moms are pulling double duty as assistant coaches for Team USA of their respective sports.
With their current posts on national team staffs, they join a special club of UCF head coaches — including men's basketball's Johnny Dawkins and volleyball's Todd Dagenais — who have gained invaluable experience in coaching some of the most elite athletes at the highest level.
This month alone, Sahaydak will be on the sidelines of the Concacaf W Championship in Mexico as the USWNT vies for automatic berths to the 2023 FIFA Women's World Cup and the 2024 Paris Olympics while Ball-Malone will be in Birmingham, Alabama, for softball's World Games on the hunt for the gold medal.
They acknowledge that pursuing these dream gigs is equally as challenging as it is rewarding — and made all the better by the encouragement they've received from their families, student-athletes and colleagues.
"I become really emotional when I think about how everybody has to do more when I'm gone, and that they're happy to do it, just so that I can have this opportunity," Sahaydak says. "I understand that I couldn't take on this opportunity without their support. And I wouldn't want to do it without their support. At the end of the day I feel like this isn't just for me because I'm able to invest this experience back into UCF."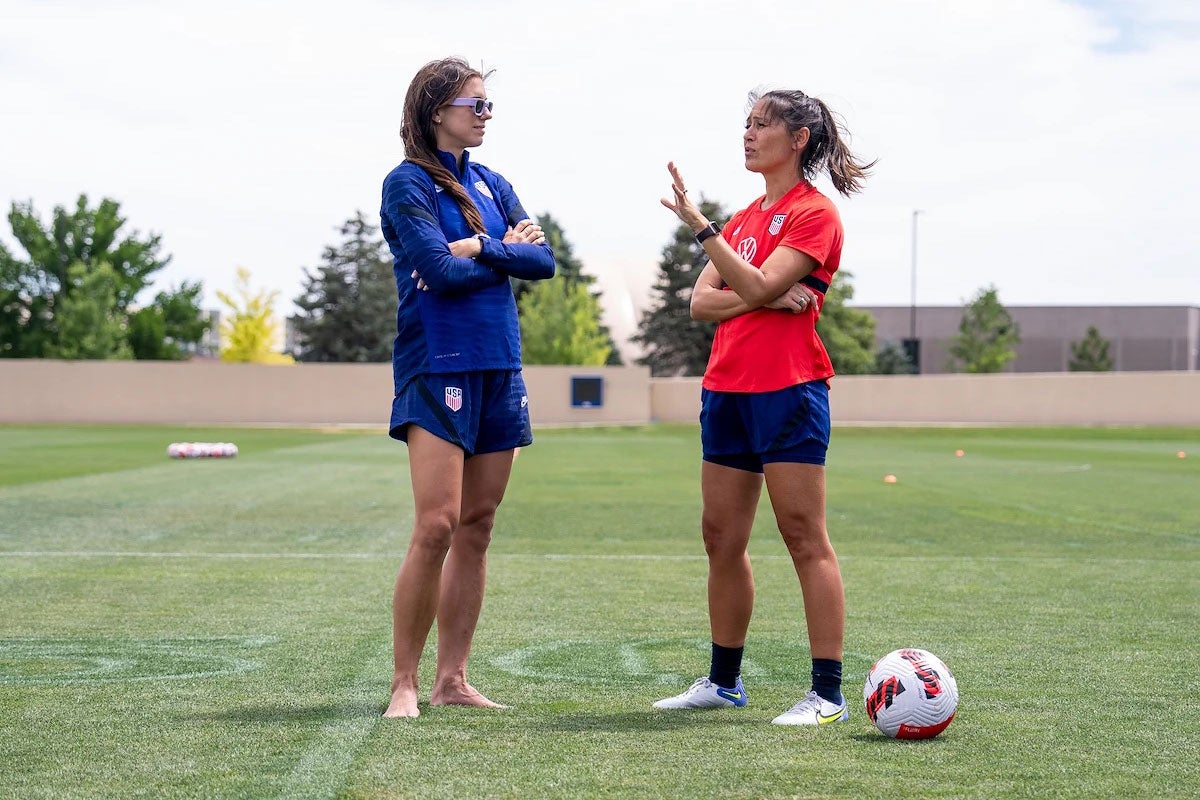 Coming Home
There's a moment every U.S. Women's National Team (USWNT) match day that never fails to put a smile on Sahaydak's face.
Decked in her Team USA gear, she stands in line with the coaching staff on the pitch as they wait for the players to come out of the locker room to begin their warmup. They greet each player with a high five and, for a brief moment, Sahaydak time travels to her decade of playing with the USWNT, which started in 1994 when she was 16 years old.
"I feel home. Even though so much has changed, there's so much that's still the same," says Sahaydak, who won a 1996 Olympic gold medal and the 1999 FIFA Women's World Cup. "To have the opportunity to be back on the field now in a different role and experience that same feeling of pride in representing our country and being part of something so much bigger than myself — there's nothing that compares to it."
"To have the opportunity to be back on the field now in a different role and experience that same feeling of pride in representing our country and being part of something so much bigger than myself — there's nothing that compares to it." — Tiffany Roberts Sahaydak
Vlatko Andonovski was named the USWNT's head coach in 2019 and two years later reached out to Sahaydak to gauge her interest in getting involved with the team.
Sahaydak didn't blink. It was a resounding, "Yes, when can I start?" despite the fact the two didn't really know each other all that well.
It ended up being a perfect fit. Sahaydak says her values align effortlessly with Andonovski, and she respects his leadership, professionalism and the care he bestows on the players. For Andonovski, the feeling is mutual.
"It's great to have someone on our coaching staff who has experienced all of the things we are going through first-hand as a player and now can help better prepare the coaching staff for all the challenges that are coming," he says. "She is also one of the most amazing people that I've ever been around. She's a great coach, a great person and fits perfectly in the culture we are building with this team."
Since then, she has worked to absorb as much of the environment and pour it back into her role and her program at UCF.
Her role as an assistant gives her insight into how, as a head coach, she can better communicate and enhance her dynamic with her assistants at UCF. From a tactical and analytical standpoint, she's taking on projects with the national team that are helping her own growth as a coach.
Sahaydak views her most important role as building relationships with the players and serving as a sounding board for them. Unequivocally, the USWNT players are grateful to have Sahaydak to turn to as someone who has experienced first-hand the ups and downs of their roles on the squad.
"I loved when I saw that she was going to be in with the team and coaching," says forward Megan Rapinoe, who vividly remembers meeting Sahaydak more than 15 years ago when Sahaydak addressed Rapinoe's youth team at the San Ramon Soccer Complex in Northern California. "I think having former players be involved is our biggest resource. Every team is built upon the teams that came before us so to have such a legend of the program with us — a true '99er — is amazing. She knows the level and what's it's going to take to win."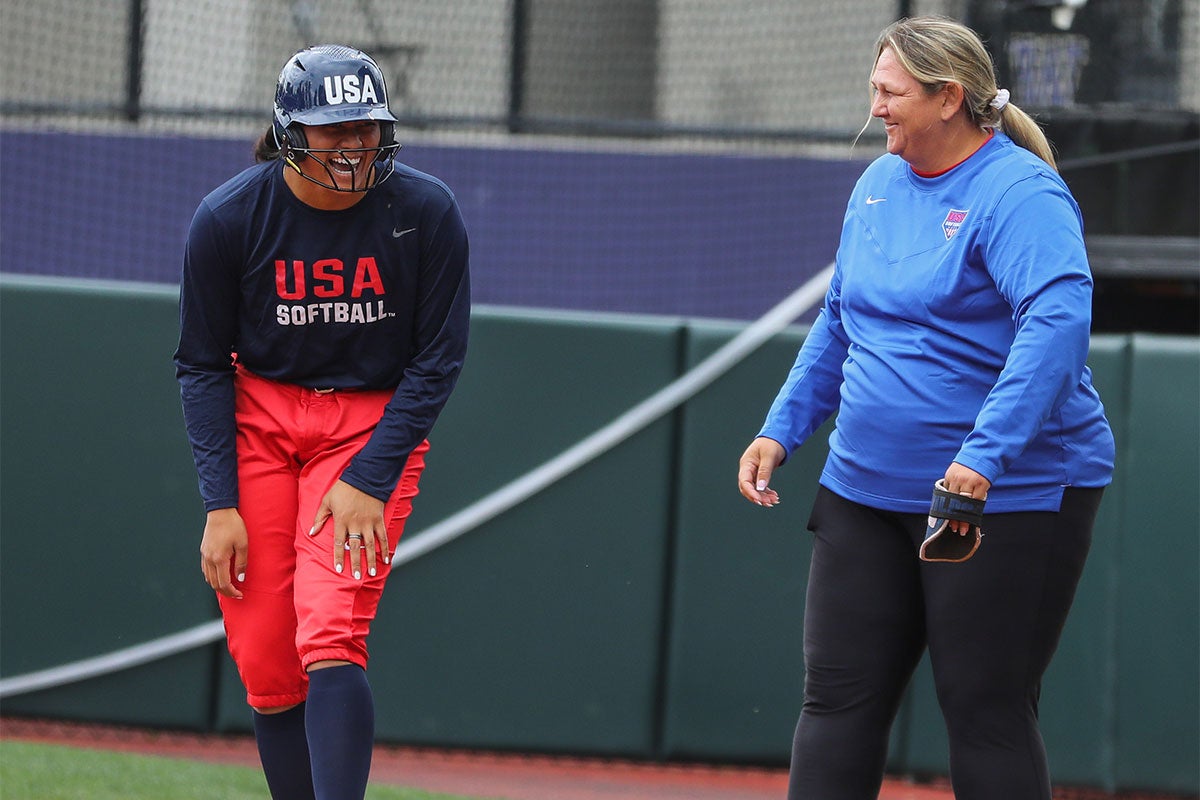 Growing the Game
One day not long ago, Ball-Malone's oldest child asked his mother to turn on golf on the television. She thought it was a strange request but obliged.
"He immediately asked, 'Well, where's Daddy?' Their dad had gone to play golf that day and they're used to seeing Mommy on TV quite a bit so in his mind, he should have been able to watch his dad," she recalls with a laugh. "I told him, 'That's not exactly how it works.'"
When you consider the year Ball-Malone just had, you can't really fault her son's logic. She led the UCF softball team to its best season in program history, culminating in conference championships, a berth in the Women's College World Series Super Regionals, a top-25 ranking in the final polls and recognition as the National Fastpitch Coaches Association Mideast Region Coaching Staff of the Year.
She followed that up with a gold-medal showing at the Canada Cup with Team USA in June — with her husband and four children in tow — and is now gearing up for the pinnacle of competition at the World Games. In August, she'll be heading to Japan for the All-Star Series.
Her involvement with Team USA Softball began in 2018 with the Junior Women's National Team, and she says it absolutely has influenced the way she manages her program. It also helps when she can pull in all-stars like USA's Hannah Flippen and Team Puerto Rico's Aleshia Ocasio to work her youth summer camps at UCF's campus.
"Our student-athletes are working camp right along with them, learning from the best in the country and in the world," Ball-Malone says.
"Our student-athletes are working camp right along with them, learning from the best in the country and in the world." — Cindy Ball-Malone
While she credits winning the gold medal with the Junior Women's National Team in 2019 as one of her career highlights, there are personal moments that mean just as much to her — like being reunited with U.S. Women's National Team head coach Heather Tarr and assistant coach Brian Kolze. The duo coached her as a student-athlete at Pacific University and later they all worked together at Pacific following Ball-Malone's playing career.
"We are proud to have Cindy Ball-Malone as part of our coaching staff," says Tarr. "Her ability to see the game from both an offensive and defensive side is extremely valuable, which makes her a huge asset to our pitching staff as well as many other areas of the game. Not only does she have one of the best minds in the game, but she is also one of the best humans around."
Interestingly, the appointment has prompted her to work alongside Florida head coach Tim Walton and Georgia head coach Tony Baldwin — fellow Junior Women's National Team assistant coaches who are some of her biggest adversaries during the collegiate season.
"It's so competitive when we play against each other. I want to beat them, and this year I would say we (UCF) were the SEC-killers," Ball-Malone says with a smile. "But after the game we're sharing information and helping each other get better. We now know each other's families. Tony, Tim and Heather have all become my greatest mentors."
Not only is Ball-Malone involved, but now you're seeing Knights in consideration for roster spots. Sophomore Jada Cody was invited to the Women's National Team Selection Trials in January — a proud moment for both player and coach.
Although Ball-Malone never quite got to capture her goal of playing on the national team, in some ways she recognizes that her role as a coach is even better.
"I'm just proud, honored and super excited," she says. "I feel I'm learning a lot and, most importantly, I hope I'm growing the game."