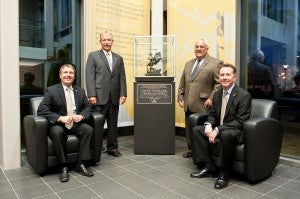 Brevard, Lake, Osceola and Seminole counties in Central Florida have at least two things in common: They border Orange County, home to UCF, and UCF graduates manage them.
All four county managers — Howard Tipton in Brevard County, Darren Gray in Lake County, Don Fisher in Osceola County and Jim Hartmann in Seminole County — learned the fundamentals of local government management as students in UCF's public administration programs. Today, they are responsible for providing vital services to more than 1.5 million people in the four-county area.
Like most county managers, Darren Gray oversees his county's budget, staff and day-to-day operations. As manager of Lake County, he is in charge of a $430-million-plus annual budget and about 750 employees. He also is responsible for the county's many departments, including Fire Rescue, Health and Human Services, Building Services, and Economic Development and Tourism.
When managing such diverse operations, having "the right players on the team" is critical, Gray said. Then "solicit their ideas and recommendations," as well as those from citizens, businesses and other stakeholders.
"At UCF, I learned a lot about team dynamics and how listening to other points of view could broaden my knowledge and affect my decision-making," shared Gray, who earned bachelor and master's degrees in public administration in the 1990s. "As the county manager, I'm constantly getting input from all directions and collectively this information allows me to make better decisions."
Exercising due diligence is essential, he said, because "the wrong decisions can affect many people."
Gray reports to his county's Board of Commissioners, composed of five elected officials. He is responsible for implementing policies set by the board, and he serves as the board's chief advisor.
Brevard, Orange and Seminole counties also employ this "council-manager" structure. In fact, this structure is the most popular form of local government in the United States, according to the International City/County Management Association.
Gray likes to remind people he got his start in local government as a student intern. Seminole County's Jim Hartmann remembers starting the same way.
"A faculty member helped connect me with an internship opportunity in the Orange County Office of Management and Budget, which became the starting point of my career," Hartmann recalled. "I then pursed an M.P.A. while working at the county." He found the graduate curriculum particularly meaningful because it helped him better understand work-related problems and ways to solve them in the real world.
Hartmann went on to hold manager positions in counties in South Carolina, Colorado and Virginia before returning to Central Florida in 2011. Over the years, he learned that developing trusting relationships is the key to success and leadership.
"One must also be ethical and maintain integrity in all that you do," he added.
Osceola County Manager Don Fisher made the same assertion: Professionalism is crucial in all aspects of the job. As an example, he cited the need to remain objective when working with the Board of Commissioners.
"If an elected body votes differently from a staff recommendation, it's important not to take the decision personally," said Fisher. "Our job is to implement policy, not create it. Setting aside your ego and conducting yourself in a trustworthy, ethical and objective manner will lead to success when a big issue comes your way."
Thinking back to his days at UCF, Fisher clearly recalls learning the "importance of ethics" from Instructor Mel Rogers and other lessons in public administration from professors and instructors who are still on the faculty.
"Maintaining high ethical standards" is on Howard Tipton's list of strategies for success as well. The Brevard County manager also includes "building strong teams, building constituencies in good times, allowing for risk taking, setting clear expectations to drive performance and holding inclusive discussions with key stakeholders."
Currently, Tipton is applying these strategies to improve economic development on the Space Coast following the end of the space shuttle program — one of many initiatives under his watch.
Hartmann said he returned to Central Florida, and specifically to Seminole County, "for the quality of life." Not surprisingly, his top priorities include protecting and improving his county's livability for future generations. "How we use our valuable resources will be at the root of most decisions," he noted. "We must study things carefully and understand the potential consequences of our actions or inactions."
Fisher's hope and vision for both Osceola County and the region are to have the most vibrant economy and the best quality of life of any place in the United States. "To make this happen, as a region, we must chose to build meaningful relationships to address our issues in a unified, cooperative and fair approach," he urged.
Tipton also hopes that as a region "we will always see beyond our political boundaries and look at what we can do together." And he anticipates a future in which Central Florida becomes a leader in the global economy.
"With a great infrastructure of roads, rail, air, sea and space; a strong corporate presence; strong educational institutions; a talented workforce; growing culture and arts; and tremendous natural resources," Tipton said, "we are too well-positioned not to be a significant player going forward."
More than likely, UCF graduates working as leaders in local government will play a role in shaping that future.