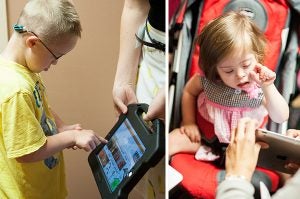 Children with Down syndrome and limited speech recently received help learning to communicate using an iPad and special "apps" hand-selected by speech experts at the University of Central Florida.
Fifteen children, ages 3 to 11, and their parents participated in "iCan Communicate" from March 22-24.
The innovative program was offered collaboratively by UCF and the Down Syndrome Foundation of Florida at the Florida Alliance of Assistive Services and Technology (FAAST) Assistive Technology Demonstration Center within UCF's Communication Disorders Clinic.
On March 22, the parents took part in an iPad training session led by UCF faculty and staff members and students. The following day, the parents assisted their children in therapy sessions to identify a relevant software application, or "app," for the child's individual communication needs.
During the sessions, the children tested various "apps" with guidance from UCF graduate students studying speech-language pathology. Three faculty clinicians supervised the graduate students.
Each "app" offers the child colorful keys containing pictures, words, or both pictures and words. When the child presses on a key, a synthesized voice says the selected word or message. By selecting a series of keys, the child can form simple messages up to complex sentences.
Among the children was Brevan Walker, a 7-year-old boy who attentively practiced using an "app" to communicate about a bowling game he played during one therapy session. Associate Professor Jennifer Kent-Walsh, who directs the program and conducts research in the area of augmentative and alternative communication, monitored the session in a nearby room.
On March 24, the children met for a final therapy session at UCF's Rosen College of Hospitality Management. Afterwards, they practiced using their iPads to communicate while enjoying a "Spring Fling" egg hunt and luncheon at the college. Three-year-old Meredith Griffen used her iPad to communicate about the candy and other surprises she found in the eggs she collected.
At the end of the program, the children received their own iPads to keep loaded with the "app" or "apps" identified by the graduate students and supervising clinicians. The Down Syndrome Foundation of Florida donated both the iPads and "apps."
When applying to participate in the program, Meredith's mother shared that she and her husband learned in January that Meredith sustained vocal fold damage subsequent to surgery to repair Meredith's trachea and esophagus.
"Finding out that your child may not be physically able to speak can be devastating for parents," Kent-Walsh shared. "We were thrilled to be able to have Meredith participate in this program at such a young age since it is critical to provide all children with the tools they need to continue to develop their language and communication skills. Meredith is a bright child with an effervescent personality. It's incredible to see her already using her iPad to express herself more fully."
UCF and the Down Syndrome Foundation of Florida first offered the iCan Communicate program in October 2011 and plans for future programs are underway.
"I can't think of another program quite like this in the country that provides free equipment and clinical services," Kent-Walsh noted. "The ability to merge the expertise of our clinical team with the vision and the resources of the Down Syndrome Foundation of Florida has been fantastic."
Although there has been great interest in providing this type of program for children with other diagnoses who have limited speech, the current collaboration focuses exclusively on children with Down syndrome, she added.
For further information on the UCF Communication Disorders Clinic and FAAST Assistive Technology Demonstration Center, see http://www.cohpa.ucf.edu/clinic. For further information on "iCan Communicate" and other "iCan" programs for individuals with Down syndrome, contact the Down Syndrome Foundation of Florida at http://www.dsfflorida.org.