As the COVID-19 pandemic continues to highlight racial disparities in healthcare, physicians and other providers play a key role in helping patients overcome barriers to care, an international emergency medicine expert told participants at the 11th annual UCF Global Health Conference Jan. 15.
"The pandemic has revealed some less-than-appealing things about our healthcare system, being one that leaves racial and ethnic minorities as well as others at the brunt of disparate health outcomes," says Christine Ngaruiya, assistant professor of global health and international emergency medicine at Yale School of Medicine, who served as the event's keynote speaker. "It is important for us to identify that race is actually not a risk factor in and of itself, but rather the systems around race that confer those differences in outcomes and access to care."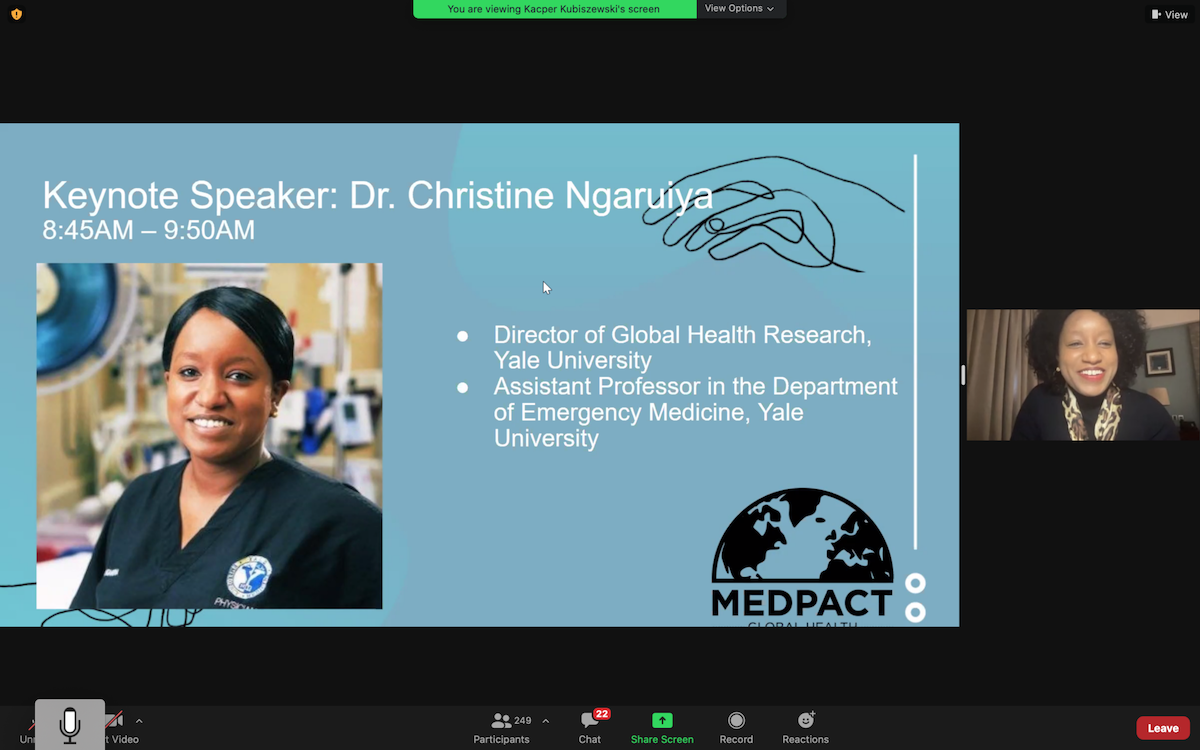 She urged over 250 interdisciplinary healthcare students, faculty, practitioners and volunteers from all over the United States who attended the conference to be mindful of microaggressions – communications that demean a person's identity — and how they can impact patient outcomes. She also encouraged participants to find new, impactful ways to promote healthcare access and equity, both locally and globally.
"It's so important for us, especially as healthcare workers, to confront these issues with an open mind, including addressing some of the contributors to what got us here today," she says.
Organized by the College of Medicine student group MedPACt (Medical Students Providing Across Continents), this year's theme was Healthcare Activism & The New Scope of Practice. Organizers hoped to hold a hybrid event — with both in-person and online activities — but decided to transition to a fully virtual event just two weeks ago because of increasing COVID-19 infections across the community.
Though virtual, the conference maintained many of its traditional features, including small breakout workshops on topics such as human trafficking, limitations to access in reproductive care, and COVID-19 outreach. It also featured research — 56 posters and 5 oral presentations.
"It was an emotional and logistical challenge to change to completely virtual in such a short amount of time," says second-year medical student Kacper Kubiszewski, one of the conference directors. "I feel lucky to be a part of a team that is so dedicated and motivated to their vision that they can motivate themselves through such tribulations. This would not have been possible if the Global Health Conference team was not so deeply collaborative and united on a shared vision."
Sarah Hay, a second-year medical student and conference director, says she was thrilled with the audience engagement.
"We had stellar retention and notable engagement," she says. "After two hours on Zoom, I expected people to be jaded and distracted with the online format but found that the keynote speaker, workshops, and discussion panelists shared important information in unique ways that kept the audience's attention. Participants were actively asking questions and many sessions ran out of time to answer all the questions."
The event also raised about $700, which will be used to support MedPACt and service-learning experiences like the Apopka Farmworkers Clinic.
"The conference was a wonderful way to help us all find new and impactful ways to promote healthcare access and equity, both locally and globally," says Tracy MacIntosh, the College of Medicine's associate dean of Diversity, Equity and Inclusion and MedPACt adviser.
"We were inspired by the work and energy of our keynote speaker, Christine Ngaruiya, and all of the amazing workshop leaders," MacIntosh says. "I believe that engaging with these leaders helped our students to imagine how they too will turn their passion for advocacy and equity into a career that improves access to care and health outcomes for all people."