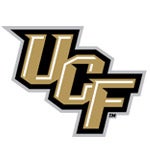 For the first time the NCAA released coach-specific Academic Progress Rate (APR) scores today and UCF coaches have fared well with none of the Knights' present coaching staff dipping below the 925 threshold during their time at UCF.
After taking the reigns of the UCF football program mid-way through the 2003-04 academic year in which UCF tallied an 880, head coach George O'Leary's squads have posted a 929 (2005), 973 (2006), 965 (2007), 971 (2008) and a 980 (2009), the latter four all being dramatically ahead of the annual national averages for football.
Terry Rooney's first UCF baseball team recorded a 964 in the 2008-09 academic year, topping the 954 national average.
Women's track and field head coach Caryl Smith-Gilbert has seen her squad post scores of 987, 949 and 983 in her three indoor seasons (2007-09) and marks of 994, 949 and 984 in her three outdoor campaigns as a Knight.
In her two full academic years at the head of the Knights' women's basketball team, head coach Joi Williams has seen her team record a perfect 1,000 and a 961.
These annual cohorts should come as no surprise as UCF has consistently posted some of the top APR scores in both the state of Florida and Conference USA in recent years.
UCF's 2010 all-sports multi-year average APR is a 967. Amongst some of the highlights surrounding this lofty score:
UCF's 967 ranks third trailing only Miami (974) and Florida (972) for D-1 schools in Florida.
UCF's 967 average places it third overall in Conference USA, trailing only elite academic universities Rice (985) and Tulane (980) while standing as the leader amongst public schools in the league.
Of UCF's 16 varsity teams, 12 (75-percent) matched or exceeded their respective sport's national average for public institutions in 2010.
Bolstering the school's lofty multi-year average was an exemplary 2008-09 academic year which saw four different UCF teams (cross country, rowing, volleyball and women's soccer) record a perfect score of 1,000.
Likewise, a full 50-percent (eight of 16) of Knight teams had an APR score of 980 or higher for the 2008-09 academic year. In the 2008-09 academic year alone, UCF's APR average per sport was 969, two points better than its multi-year average.
UCF's multi-year football average of 972 ranks seventh nationally amongst public non-military schools. It trails only Rice amongst C-USA institutions and Miami amongst the 10 Division I football programs in Florida. Overall, UCF's average APR for all sports has improved in each of the past five years, moving up from a 953 in 2006 to a 967 in 2010.
The NCAA only selected a handful of sports to include in this initial report and will include all Division I sports next year.