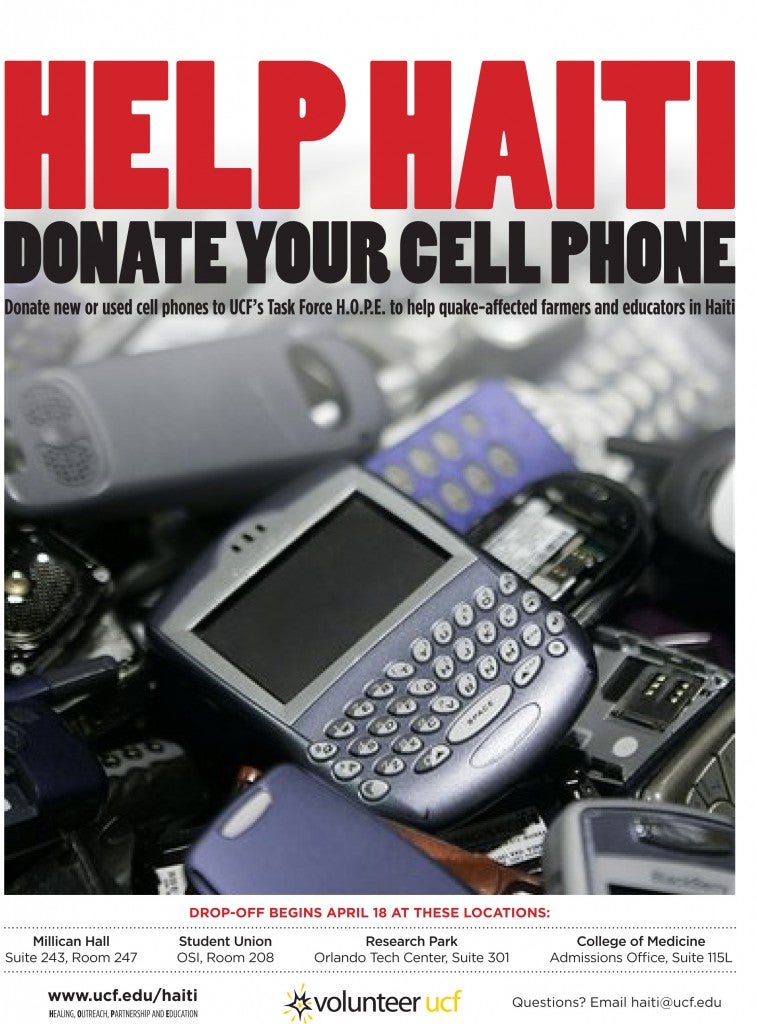 More than a year since a devastating earthquake killed thousands in Haiti and left millions more homeless, UCF and the Central Florida community continue working to improve the lives of those affected.
UCF has made a long-term commitment to help Haiti recover from the earthquake through volunteer and research projects and the creation of Task Force H.O.P.E. (Healing, Outreach, Partnership and Education), which is made up of students, faculty and staff members and administrators from across campus.
For the next several weeks, Task Force H.O.P.E., with support from Volunteer UCF, will be collecting cell phones to support a mobile technology project managed by UCF's Institute for Simulation and Training. Along with micro-financed mini projectors and education software, the phones will become mobile training centers for Haitian teachers and farmers to instruct others in the classroom and in the field.
All phones will be accepted, although smartphones are preferred. Older phones that are not suitable for the mobile technology project could be donated to UCF Victim Services.
You can drop off phones at four UCF locations:
Millican Hall, Suite 243, Room 247
Student Union, Office of Student Involvement, Room 208
Central Florida Research Park, Orlando Tech Center, Suite 301
College of Medicine, Admissions Office, Suite 115L
Phones also will be collected at the Hearts for Haiti benefit concert featuring the Plain White T's on Friday, May 13. The concert starts at 6 p.m. at The Beacham on Orange Avenue in downtown Orlando.
UCF's Institute for Simulation and Training is one of the sponsors, and concert proceeds will benefit The Foundation for America's Blood Centers, which has been providing disaster relief to Haiti since the earthquake.
For tickets and more about the concert, go to The Beacham website.
For more information on the cell phone drive and other ways that UCF is helping Haiti, visit http://www.ucf.edu/haiti or e-mail haiti@ucf.edu.