Brent Beumel '14 and his fiancee Bryanna La Londe '13 were driving back to Central Florida in November 2015 from a weekend trip Savannah, where Brent had just popped the question at a bed and breakfast.
Giddy off the high of their engagement, they started imagining what their wedding day would look like. Who would officiate the ceremony?
Without a moment's hesitation, long-time UCF sports and exercise science instructor Jeff Biddle emerged at the top of their list.
"He's what every professor should be to a student. He doesn't want you to just come in and get your degree and walk out. You could go into his office anytime he was in there and talk with him. He loved to get to know people and what you wanted to do with your life," La Londe says. "He was the first person we thought of."
The now-Beumels met in 2012 in a biomechanics class at UCF's South Lake campus in Clermont.
They started out as friends. Bryanna had plans to move to Portland, Oregon, at summer's end. After a month, their relationship progressed to more than friends.
"And then I didn't go! And it worked out well," she says with a smile.
The two finished their sports and exercise science degrees, frequently driving the hefty commute out to Clermont – La Londe drove 70 miles one way from her mother's home in Merritt Island — because they loved the program and professors, especially Biddle.
"Every class that he taught in our major, I tried to sign up with him. He made the drive out to Clermont worth it," says Beumel, who lived less than eight miles from UCF's main campus at the time. "It was an hour to get out there but you knew when you'd have him at 8 o'clock in the morning it was going to be fun. It wasn't just staring at a PowerPoint for an hour and a half. You were interacting with him and all the other students. He made it enjoyable. He's not one we'll forget."
La Londe , a first-generation student, graduated in 2013 and is now working in the rehabilitation department at Arnold Palmer Hospital for Children. Beumel graduated a year later as a second-generation UCF alumnus.
As fate would have it, Beumel's parents met while they were students at UCF at a house party on Alafaya Trail. His mother, Linda, graduated in 1983 with a bachelor's in chemistry. They didn't expect that decades later, their son would mirror their love story and find his future wife while at school.
"UCF helped make me who I am. The experiences I had through sport and exercise molded me into the trainer and coach that I am now," says Beumel, who works at CrossFit Firebase in Orlando. "I view it as a starting off point. That's where we met. It's where my parents met, as well. It holds a special value in that to me."
The couple married Thanksgiving weekend in 2016 at Club Lake Plantation in Apopka with a black-and-gold-bow-tie-clad Biddle as their officiant.
Their grandparents gave the couple their wedding rings and served as ring bearers in their ceremony.
The gold band of Beumel's ring belonged to his grandfather. It had to be pieced back together after it was cut off his grandfather's finger following a motorcycle accident.
When the jeweler melded it together, he chose a black zirconium to sandwich it, making it the perfect color combination for Beumel's UCF roots.
As the couple anticipated, Biddle was a hit among the family in attendance. He was as comical and engaging in the ceremony as he is in the classroom.
In order to perform the ceremony, the professor needed to obtain a notary license. He told the couple to leave the logistics to him.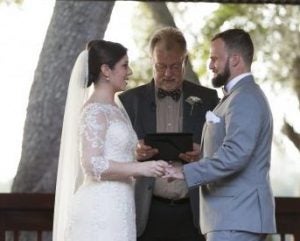 Biddle, who makes it a point to attend as many of his students' commencement ceremonies as he can, says that the request for him to serve as their officiant was an honor and a privilege.
That realization hit him even harder when he recently watched their wedding video.
"Their kids and their kids' kids are going to be watching that video. I'm permanently a part of their lives and their family's lives from now on. And that's pretty cool," Biddle says. "I am thrilled that they asked me, thrilled that they wanted me to do it. It is certainly one of the bigger moments to happen in my life."
What he may not realize is that he secured a special place in their lives a long time ago.
"Being a first-generation degree seeker – professors are who I looked up to for guidance and direction throughout the whole process. Dr. Biddle was a role model for me," La Londe says. "Finding what you love to do may change over the years and that's OK. That is something I learned from him. I don't even know if I've ever told him this, but it's how I feel about him and what he's done for me."