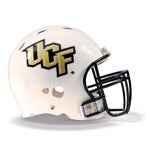 A two-game series with the BYU Cougars begins in 2011, while a host of other prominent new opponents appear on the UCF football non-conference schedule over the next five seasons.
The series with BYU starts with a road trip to Provo, Utah, in 2011, with the Cougars making the return trip to Orlando and Bright House Networks Stadium in 2014. The 2011 road game will replace a previously scheduled trip back to Austin, Texas to face the University of Texas, which will now take place during the 2017 season.
Also coming onto the UCF schedule are two-game home-and-home series against schools from the BIG EAST and SEC with the Knights facing Connecticut and South Carolina. UCF will face the Gamecocks in Orlando in 2013, with the return trip to Columbia, S.C., coming in 2015. South Carolina will become the first SEC foe to ever travel to UCF. The Knights will first travel to UConn in 2014, with the Huskies coming to Orlando in 2015.
By the 2013 season, UCF will have welcomed a team from an automatically-qualifying BCS conference to Orlando in each of eight consecutive seasons dating back to 2006.
Other notable future home contests at Bright House Networks Stadium include Boston College (2011) and Kansas State (2012) in successive seasons, while UCF travels to Pittsburgh to face the Panthers during the 2012 season.
"Our goal has always been to play two opponents from automatic qualifying conferences each season, as well as two schools from non-automatic qualifying conferences, with also trying to schedule an opponent from within our state," said Director of Athletics Keith Tribble. "I'm pleased we've been able to get that accomplished with our non-conference scheduling over the next four years.
"The series with BYU should be an exciting one. Their football program has always been one to follow, seeing all of the success it has sustained over so many years," added Tribble. "Then you look at South Carolina, and the fact it will be the first Southeastern Conference team we will have hosted in Orlando. That game will hold its own special meaning. Connecticut has been another school we've followed over the years, watching them grow into a successful Big East program."
A pair of familiar foes comes back onto the UCF schedule in upcoming seasons as well, in Akron and Bethune-Cookman. The Zips, who the Knights were fellow Mid-American Conference members with from 2002-04, are slated to play host to UCF in 2012, while traveling to Orlando in 2013. UCF's former Mayor's Cup opponent, Bethune-Cookman, will also make its debut at Bright House Networks Stadium during 2013. It will be the 16th meeting between the teams, UCF's longest series of any opponent.
Charleston Southern will serve as UCF's season-opener in 2011, while Jacksonville State comes to Orlando in 2014.
The four-game series with FIU commences in 2011, with the first game taking place in the Golden Panthers' new on-campus home, FIU Stadium. FIU then heads to Orlando in 2012. UCF will again travel to Miami to play FIU in 2013, while the Golden Panthers return to Orlando in 2014.
Future Non-Conference Schedules (schools listed alphabetically):
2011: Boston College, @BYU, Charleston Southern, @FIU
2012: @Akron, FIU, Kansas State, @Pittsburgh
2013: Akron, Bethune-Cookman, @FIU, South Carolina
2014: BYU, @Connecticut, FIU, Jacksonville State
2015: Connecticut, @South Carolina
2017: @Texas
Schedule Notes:
UCF has never previously faced BYU, Charleston Southern, Connecticut, FIU, or Jacksonville State.
UCF fell to South Carolina in three road games in Columbia (1996, 1997 and 2005). The Gamecocks will make their first appearance at UCF in 2013 and become the first SEC team to ever face the Knights in Orlando.
The return trips to Orlando for Boston College and Kansas State will be their first road trips to UCF. Likewise, UCF's trip to Pittsburgh in 2012 will be the Knights' first appearance at Heinz Field.
UCF is 2-5 all-time vs. Akron, in a series dating back to 1984. The two teams did meet five times from 2000-04 and three times as Mid-American Conference opponents (2002-04). UCF is 0-3 at Akron and an even 2-2 in games vs. the Zips in Orlando. The Knights have faced Akron more times than any other non-southeastern school.
BYU, South Carolina and Boston College have all travelled to Orlando before but never to face UCF. BYU played twice in the former Tangerine/Florida Citrus Bowl game in 1976 and 1985, while South Carolina appeared in the bowl game in 1975 and BC in 1982. Boston College also played at the Florida Citrus Bowl in 2007, making an appearance in the Champs Sports Bowl.
Bethune-Cookman is one of the most traditional opponents for UCF, with the Knights holding a 10-5 series advantage, dating back to 1981. The 15 meetings are the most that UCF has against any opponent in its football history. The 2013 game will mark the two teams' first meeting since the 1995 season. Since 1997, Bethune-Cookman has annually played in Orlando at the Florida Citrus Bowl in the Florida Classic against Florida A&M.
With the addition of Connecticut, UCF will have played every active BIG EAST school in its relatively-short football history except for Cincinnati.
Source: UCF Athletics Communications, Media Contact: Joe Hornstein; joehorn@athletics.ucf.edu <mailto:joehorn@athletics.ucf.edu> ; (407) 823-2729