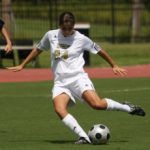 Two of the top collegiate women's soccer programs in the country will clash at the UCF Soccer Complex when the Knights host Florida Sunday, Aug. 22, at 7:05 p.m. Admission is free, but fans unable to make it out to the pitch will be able to watch it live on Fox Sports Florida as part of the Gator TV network.
The game will be the season-opener for UCF, as it marks the first time since 1998 that the Black and Gold will host the Gators in the first match of the regular season.
UCF and Florida have had an entertaining series in their last five meetings, which sits at 2-2-1 dating back to the Knights' 3-2 win at UF in the 2004 NCAA Tournament. At one point in 2009, both teams were ranked in the top 10, and were eventual national seeds in the postseason.
The Knights completed 2009 with a 17-5-1 record while the Gators finished with a 16-6-2 mark, proving that their match-up Aug. 22 could be one of the top non-conference games nationwide in 2010.