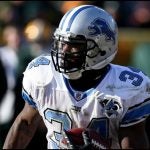 Join the UCF football family on Saturday, Oct. 23, to commemorate four special jersey numbers during the Knights' annual Homecoming contest vs. the Rice Owls, scheduled for 3:30 p.m. at Bright House Networks Stadium. The four 2010 honorees are Daunte Culpepper (1995-98), Kevin Smith (2005-07), Joe Burnett (2005-08) and the late Wayne Densch.
Two of the jerseys, Densch (1986) and Culpepper (1999) have previously been recognized, and will be joined in 2010 by the monumental accomplishments from Smith and Burnett during their respective collegiate careers. Current criteria to commemorate a jersey, while not removing the number from usage by a current student-athlete, includes those who earn prominent national first-team All-American honors, while gaining conference player of the year recognition and have brought positive recognition and prominence to the university and themselves through their accomplishments.
#1 – Wayne Densch: On Oct. 22, 1986 a plaque was placed in the middle breezeway of UCF Athletics Department thus renaming the complex the Wayne Densch Sports Center. The plaque was adorned in honor and recognition of the benevolence shared by one of the Central Florida region's greatest philanthropists. The gift to UCF Athletics would be the start of a long-standing relationship with the Densch family and the Wayne M. Densch Charitable Trust, whose name also marks the front of the current UCF football offices and athletics training center. In gratitude for this monumental gift in 1986, UCF Athletics retired jersey #1 in honor of Densch.
#8 – Daunte Culpepper: In March 1999, Daunte Culpepper, who just completed his trailblazing career at UCF, saw his #8 retired during the team's postseason awards banquet. Culpepper's collegiate career would see the Ocala-native leave UCF at the top of virtually every quarterback record chart (more than 30 in all), while setting an NCAA record for single-season completion percentage (.736). Culpepper would accomplish a career feat equaled by only two others in NCAA history when he passed for 11,412 yards and rushed for 1,020 yards over his four seasons. He would finish his career sixth on the NCAA's all-time total offense list for all divisions with 12,459 yards and was responsible for 108 touchdowns (84 passing, 24 rushing). He won the 1998 Sammy Baugh Trophy as the passer of the year in college football and was chosen along with Ricky Williams from Texas as the national Co-Player of the Year by The Sports Network.
#19 – Joe Burnett: A record setting cornerback and returner for the Knights who was named a Walter Camp All-American as a senior in 2008, in addition to ESPN.com and Sports Illustrated. Burnett helped UCF to its first two bowl berths in 2005 and 2007, as well as playing a critical defensive and special teams role in the school's first ever conference championship during 2007. He earned an amazing total of eight career All-Conference USA honors, including a four-year sweep of the first-team punt returner award. In his final campaign, he was named C-USA Special Teams Player of the Year. He left UCF as both the school and C-USA record holder for career punt return yards (1,304). He also set the UCF record, and ranked second in C-USA history, with 16 career interceptions.
#24 – Kevin Smith: Nearly everybody's All-American following his record-setting 2007 season, Kevin Smith is UCF's lone consensus All-American earning first-team praise by the Associated Press, Walter Camp, the Football Writers Association of America, ESPN.com, The Sporting News, and Sports Illustrated, amongst a total of nine media entities that season. He would also go on to earn 2007 Conference USA Offensive Player of the Year honors following his junior campaign which saw him rush for an astounding 2,567 yards and 30 total touchdowns, both figures leading the nation. UCF would go onto enjoy arguably its finest season all-time in 2007, opening up a new on-campus stadium, winning the C-USA Championship in front of its home crowd and playing in the AutoZone Liberty Bowl. His single-season rushing effort was the second-highest in Football Bowl Subdivision history, trailing only Oklahoma State's Barry Sanders (1989). In addition to leading the country in rushing, he paced the nation in scoring (12.86).
For the latest news on the Knights, log on to UCFAthletics.com – the official site for UCF varsity sports. The site, which also contains ticket and Golden Knights Club donor information, is also the home of UCF's new online apparel store.