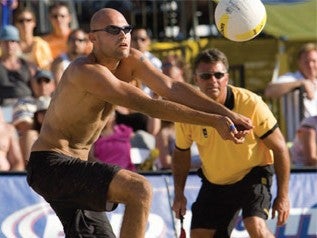 Phil Dalhausser, a 2002 UCF graduate who won a gold medal at the Beijing Olympics, will serve as the grand marshal of UCF's Homecoming parade at 9:30 a.m. Saturday, Nov. 14.
Dalhausser, who earned a bachelor's degree in Business Administration, headlines a week of circus-themed Homecoming activities dubbed the "Greatest Week on Earth." Students, alumni and community members will enjoy a comedy show, concerts and Spirit Splash, the traditional dip in the campus Reflecting Pond.
UCF also will unveil a statute honoring founding president Charles N. Millican. The statue will be revealed Friday, Nov. 13, outside Millican Hall.
Homecoming Week begins Saturday, Nov. 7, and concludes Saturday, Nov. 14, when the Knights and Houston Cougars will kick off at noon at Bright House Networks Stadium.
For information on game day traffic and parking, visit ucfgameday.com.
For more information on Homecoming events, visit the Web site.