Every UCF medical student spends part of their education caring for military veterans — an experience they say helps them better understand and appreciate the sacrifices of our nation's heroes.
During their third-year clerkships and fourth-year electives, medical students receive training in specialties including surgery, internal medicine, neurology and psychiatry at the Orlando VA Medical Center next door to the College of Medicine in Lake Nona and Bay Pines VA Healthcare system in St. Petersburg.
Third-year medical student Gary Saloman did his four-week general surgery rotation at the Orlando VA. He observed surgeries, learned laparoscopic surgery techniques and helped with sutures and incisions in the operating room. But he said the interactions with his patients taught him more.
"It was a really humbling experience serving men and women vets with such interesting stories, and to be able to give back to those who have done so much for our country," he says.
One of the patients he followed came in with abdominal pain and was diagnosed with stage 4 colon cancer. Surgeons performed a palliative procedure to remove a tumor to relieve the patient's pain. Saloman says the intense experience showed him how medicine and empathy can affect a patient's condition.
"You learn not to just focus on diseases but how to improve the quality of life as you get to know the patient and what is important to them," he says.
The Orlando VA Medical Center opened in 2015 and is one of the nation's largest VA hospitals, serving the region's 400,000 veterans. It also houses the VA's state-of-the-art SimLEARN National Simulation Center, where physicians can train using simulated robotic patients.
Students say they are particularly struck by how willing veterans are to share their medical and life experiences to help the learners become better physicians. Andrew Taitano, a surgeon at the Orlando VA and associate professor of surgery at the College of Medicine, says he isn't surprised.
"It speaks to the character of the veterans," he says. "They are happy to be getting care and want to help students learn to help others in the future."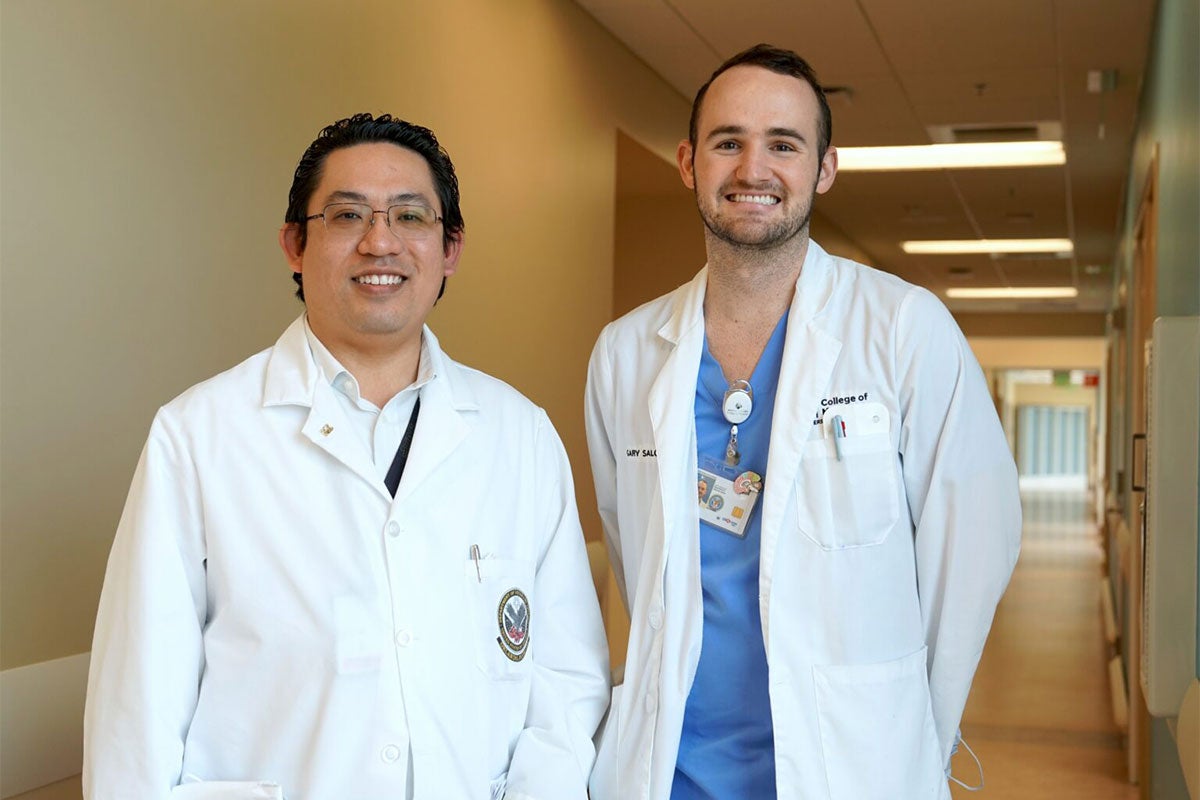 Taitano says that Orlando VA training is different because there is not the pressure to see a lot of patients in a short amount of time.
"It's really important in today's medical practice and student training, they can take their time and get to know the patients," he said, adding that such time leads to better care and health outcomes.
A general surgeon for 24 years who began teaching in 2014, Taitano taught UCF medical students in Bay Pines before joining the Orlando VA earlier this year.
His grandfather was in the Navy and an uncle also served in the military, so Taitano sees his role as giving back for their service to the country.
"I like to mentor students and I enjoy seeing them go through the process of figuring things out. It keeps me fresh and I'm excited to see them develop. I get inspired by the quality of the students," he says.
Martin Klapheke leads psychiatry education at the medical school and says he has seen an increased interest in psychiatry as a chosen specialty for UCF graduates because of their training at the VA.
"They get to assist in the evaluation and treatment of patients with comorbid psychiatric and medical conditions," he says, "helping patients with mood, anxiety, substance use, psychotic and neurocognitive disorders as well as PTSD."
Third-year medical student Sean Yumul called his psychiatry rotation at the Orlando VA an inspiring learning experience.
"The sense of team healing and comradery is a unique aspect to VA psychiatric medicine," he says. "Each patient has a shared experience with the military and is able to relate to each other's experiences and struggles on a different level from their relationships in civilian life. There are no better stories than those from the men and women who served our country. I learned I have much to learn."
Yumul believes the VA environment of coordinated care and access to treatment, not limited by a patient's ability to pay, "allows medicine to be practiced in the purest sense."
Jeffrey LaRochelle is an Air Force veteran who is the College of Medicine's associate dean for academic affairs. He was called back to active military duty at the height of COVID-19 and sent to New York City when it was the epicenter of the pandemic. He said training at VA hospitals gives UCF medical students a snapshot of the diverse patients they will be treating during their careers.
"In their interactions with veterans, medical students come to realize that they are, in fact, a diverse group representing all walks of life — from those experiencing homelessness to those who are in the upper socioeconomic classes and represent ethnicities and cultural backgrounds across the entire fabric of our nation," he says.