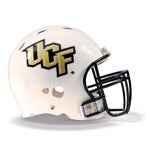 On Saturday, a capacity crowd is expected at Bright House Networks Stadium when UCF hosts No. 9 Miami. Kickoff is set for 7:30 p.m. Before the contest, fans can learn more about gameday at UCF by visiting UCFGameDay.com, or by logging onto UCFAthletics.com, the official news source of the Knights.
Park and Ride: Fans are encouraged to utilize the free park and ride services originating in the Central Florida Research Park. Shuttles are scheduled approximately every 15 minutes to transport passengers between the Orlando Tech Center (located in Research Park) and the on-campus Health Center (lot C3 near the stadium). The service begins at 4:30 p.m. and is available until two hours following the game.
Parking: Campus parking lots will open at Noon Saturday. No tailgating is permitted on campus before Noon.
Entering Bright House Networks Stadium: At 6 p.m., Bright House Networks Stadium gates will open to the general public. Gate 1 will open at 5:30 p.m. for suite patrons. Gate 18 opens at 4:30 p.m. for credentialed media.
Arrive Early: Fans are encouraged to arrive to the stadium early and are reminded to use entry points on the east (Gates 11-14) and north (Gates 6-9) sides of the stadium. Fans are also encouraged to not bring bags into the stadium. A complete list of items that are permitted for entry into the stadium is available at UCFGameday.com.
Gameday Hotline: Beginning at 10 a.m. Saturday, fans with questions about gameday should call (407) 882-FANS (3267).
In-Stadium Text Messaging: Beginning at 6:30 p.m. fans are encouraged to utilize the in-stadium text messaging to report any issues. Text "UCF" to "41513" followed by the seat location and issue.
Guest Services: Inside the stadium, the guest services tent is located inside Gate 18. Two first aid stations are located inside the stadium on the main concourse – under section 106 and adjacent to Gate 10.
Stay Healthy: As the H1NI (swine) flu continues to affect people around the country, UCF encourages all fans to take precautions to stay healthy. Hand sanitizers are located along the main concourse throughout the stadium.
Will Call: Will call locations are as follows: General Public – West Ticket Office (outside of Roth Tower), Media – Gate 18, UCF Player Guest – Gate 16, Miami Player Guest – Gate 11.
Gameday Timeline:
Noon – Campus parking lots open
3:30 p.m. – Gold Zone area restricted to parking pass holders only
5 p.m. – Smokey Bones Pregame Tailgate Radio Show begins in IOA Plaza
6 p.m. – Stadium gates open
7:10 p.m. – Pregame show begins inside Bright House Networks Stadium
7:30 p.m. – Kickoff
Holler Classic: The UCF-Miami game is sponsored by Holler Classic, the official auto group of UCF Athletics. Pregame, fans can head to IOA plaza to register for the chance to win a car during the game in an on-field contest. Two fans will be selected to compete for a chance to win a 2010 Honda Civic and a 2010 Mazda 3.
Fan Fair Fun: Before the game, fans can visit IOA Plaza outside the stadium for games and giveaways. On Saturday, Fan Fair will include * The Smokey Bones Pregame Tailgate Radio Show, starting at 5 p.m. * Live music from Howl at the Moon on the Orange County Parks and Recreation stage * Free koozies and fans from Bright House Networks * A chance to meet Central Florida News 13 meteorologist Dave Cocchiarella at the Bright House Networks tent * Giveaway items from Metro PCS * Koozies and games from E-Tour & Travel * The chance to look at new vehicles from Holler Classic * Mardi Gras beads and bandanas courtesy of Tijuana Flats * Gift certificates from Smokey Bones * Games and gift certificates from Domino's Pizza * Schedule cards, stickers and fan books from CCM Printing * An appearance from the Chick-Fil-A mascot * Coke Zero sampling and the Coke Interactive fan zone area for kids * Gift certificates and giveaways from Howl-O-Scream at Busch Gardens * Outback Steakhouse providing gift certificates * A NASCAR car on display courtesy of Farm Bureau Insurance *Cinch bags from Geico * Giveaway items from Kitson & Partners
Inside the stadium: Once inside Bright House Networks Stadium, fans should visit the UCF Sports Marketing Kiosk, which is located between Gates 1-4 to receive UCF football schedule magnets, posters and schedule cards. Representatives from the Marines will be offering dog tags, lanyards, stickers, magnets and a pull-up challenge course.
Holler Classic Rally Towel: The first 750 students entering the stadium will receive a rally towel from Holler Classic.