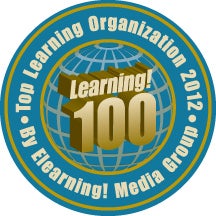 IST's METIL group, led by Dr. David Metcalf, was among the 40 Public Sector Honorees announced at the 2012 Enterprise Learning! Summit held March 20-21 in Corona, CA.
Elearning! Media Group (EMG), publishers of Elearning! and Government Elearning! magazines, sponsors the 40 public sector and 60 corporate awards, which represent "the best-of-the-best in learning and development multinational organizations," according to the media group. this is the second year EMG has presented Top 100 awards.
IST's Dr. Anya Andrews' work with the RETRO Lab garnered a top 100 award at last year's conference.
The 100 organizations receive awards "for outstanding learning culture, innovation or collaboration that drives performances." Organizations are evaluated across three criteria: Aberdeen Group's Best-in-Class Learning & Development assessment, EMG's Learning Culture index, and overall organizational performance.
IST ranked 11th among the 40 public sector awardees and has contributed research for several of the top-10-ranked organizations and a number of the remaining 29 awardees.