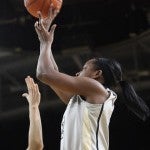 A team player in the truest sense of the words, UCF senior forward D'Nay Daniels says that personal accomplishments are the furthest thing from her mind. But every time she looks into the mirror these days, there's a noticeable reminder of her greatest individual achievement on the basketball court.
Daniels, a senior from Atlanta, recently became the 14th player in UCF women's basketball history to score 1,000 points, but it came on a night when she was knocked from the game and had blood pouring out of her mouth.
A front tooth that was broken in half when she face-planted into the floor is a not-so-subtle reminder of Daniels' joining the 1,000-point club. Even now, watching the video of a Memphis player landing on her head as she dived for a loose ball is difficult.
"I was trying to be that hustle player for us and I dove for a ball and she landed on my head," Daniels recalled following UCF's rout of Marshall on Sunday. "I was freaking out. I knew something had happened, but I didn't know how bad it was. When it happened, I was screaming and you can look at the tape of me kicking my legs up in the air. And one of my friends who plays for Memphis, she ran over to me to check on me. I never thought that something like that could happen to me, but hey, it did."
Of course, it only slowed down Daniels, one of UCF's toughest, most vocal players. Minutes after stopping the bleeding, the 5-foot-10 power forward was back on the floor to knock down a mid-range jump shot from the left corner for her 1,000th point.
Combining with senior guard Chelsie Wiley's accomplishments, UCF (11-8 overall and 4-2 in Conference USA play) is one of only two schools in the conference with two active 1,000-point scorers. But Daniels said she is far more focused on UCF's Thursday night showdown against Houston (15-4 and 6-0) than a personal gain.
"I got 1,000 points, but really I could care less," Daniels said with a shrug. "But if we win a conference championship, that's all that's on my mind right now. I'm just about doing what my team needs me to do for us to be successful."
UCF has been largely successful at home this season, compiling an 8-1 mark at UCF Arena. The Knights throttled Marshall 68-40 on Sunday in their finest all-around performance of the season. Up next is a key game against a Houston team that has the conference's reigning Player of the Week (6-foot senior forward Courtney Taylor) and the league's only unbeaten mark.
Daniels knows that Thursday night's game is a chance for the Knights to announce themselves as favorites to win C-USA – much the way they did two seasons ago with a stirring postseason run in the tournament.
"It's another opportunity to show the league what we're all about," Daniels said. "And let them know that UCF is back and that this season is going to be a very, very good one for us."
It's been a very good one for Daniels, who leads the Knights in scoring (14.7 ppg.) and is second in rebounding (7.7 rpg.). Despite being undersized in the post, Daniels has hustled her way to scoring in double digits in 16 games this season. She scored a career-best 25 points earlier in the season against FIU and she's been a model of consistency in conference play, averaging 17.2 points and 8.6 rebounds with two double-doubles.
"D'Nay is a wonderful player and she is a good leader for us on and off the court. This is her last year and she wants to go out with a bang," UCF guard Aisha Patrick said. "Whether it's offense, defense or whatever, she drives us and we're just playing off of her."
Patrick and other teammates still kid Daniels about the crack in her front tooth and her hysterical reaction upon snapping her chomper in half. But Patrick says that it was emblematic of Daniels that not long after suffering the injury she was back in the game scrapping in the post and sprinting on the fastbreak.
"It wasn't so pretty with the tooth," Patrick said with a laugh. "It's tough to get your tooth knocked out and then get into the mindset of getting back into the game. She did a wonderful job fighting through that adversity."
Daniels and Wiley are two of the leaders of head coach Joi Williams' first true senior class, and the finality of their basketball careers has helped to ramp up their intensity down the stretch of the season. Angelica Mealing, Jelisa Caldwell and Leah Paige are the other three seniors on a UCF team that hopes to win its second C-USA title in three seasons.
"D'Nay has grown a lot and I think there's a sense of urgency there with her now. I think these seniors know now that they have 10 regular-season games left and D'Nay wants to leave as a champion," said Williams, who is in her fourth season as UCF's head coach. "She's doing everything that she can to help us and hopefully we'll get others to help her."
Daniels will leave the program this spring with her name forever etched into the record books, but her only goal, she stressed, was to win another title. She won a state title in high school in Georgia and played in all 34 games the year UCF won the C-USA crown and advanced to the NCAA tournament. Championship hardware, and not points scored, will define her legacy at UCF, she said.
"(Scoring 1,000 points) is very special, but I could care less about the recognition and being in the record books," she said candidly. "If I could be zero points and 10 rebounds a game, if that's what would help our team, that's what I'd want. It's not about the personal achievements to me."
John Denton's Knights Insider appears on UCFathletics.com several times a week. E-mail John at jdenton@athletics.ucf.edu.