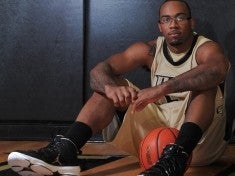 Marcus Jordan wears black, square glasses and stands at 6-foot, 3-inches tall, three inches shorter than his famous father.
His arms and chest are decorated in body art. He has two stars right below his shoulders that bear his initials. His father didn't prefer the ink.
Marcus wears the letters UCF across his chest, not UNC. His father wore the No. 23. He prefers No.5.
Really, the only similarity between Marcus and his father, Michael Jordan, is the family name draped across the back of their respective jerseys.
It's pretty much the only thing Marcus wants to be compared to with his father, despite continuous expectations from the time he was young to become like the Hall of Famer and NBA icon.
"I have had those expectations since sixth grade, so just growing up, you learn how to deal with them," Jordan said. "You know you're not going to be Michael Jordan Jr., you're going to be Marcus Jordan. I have no problem with that.
"I love [being his son], and I wouldn't want to be anybody else."
Marcus is beginning his first collegiate season of basketball at UCF after being recruited to play for the Knights in early April. He headlines a talented freshman class, including forward Keith Clanton and swingmen Nik Garcia and R.J. Scott.
Marcus' recruitment to the Knights made national and even global headlines, especially when he made his official commitment on April 6.
Head coach Kirk Speraw noted that a commitment like one of Marcus' speaks for itself, but UCF didn't recruit the Chicago native for the name he bears on the back of his jersey.
"Our decision to recruit Marcus was strictly on what he would bring to our team and the skill set that he had," Speraw said, who is entering his 17th season as head coach of the Knights. "It didn't matter if his name was Marcus Smith, his skill set is what we needed for this basketball team and what he would bring to this basketball team. All the other stuff was not even a thought in our minds."
The decision to lure Marcus to Orlando was helped by his former teammate at Whitney Young High School, A.J. Rompza. The two are best friends and combined with AAU teammate in Nik Garcia, made Marcus feel something different about this team than any other.
"I really felt like this team was a family here," Jordan said. "I just thought I was joining the UCF family, basically. Having A.J. Rompza down here already, one of my best friends, and having Nik Garcia coming down with me as well, I wasn't going into it alone.
"I felt comfortable here."
Averaging 10 points, 4.5 rebounds and 3.6 assists per game in his senior season at Whitney Young, Marcus continued to improve on his skill set as the season went on. He averaged 16.8 points and 8.5 rebounds per game in the post season, en route to leading his team to the Class 4A State Championship.
Speraw believes his skill set goes beyond what shows up in the box score.
"He will bring a very competitive level to this team and somebody that has very good instincts with the basketball," Speraw said. "Those are two skills that people don't look at very often, but those are two skills that are very critical to a successful basketball program. We are excited to add that ingredient to the rest of the mix that we have."
Joining Marcus in the 2009 recruiting class is a local talent that will be looking to make headlines as well in Clanton. The 6-foot-8 forward was named the Class 1A player of the year his senior year at Orlando Christian Prep and led them to a 30-2 record, including a state championship.
"He is a great young man," Speraw said of Clanton. "He is very unselfish, and he is going to be great to play with because he is so unselfish, has great vision and is such a tremendous passer."
Scott, a Louisiana native, and Garcia, a Chicago native, will also factor into the success of the recruiting class. Scott also led his team to a state title his senior year and is known for his playmaking ability. Garcia, a 6-foot-6 shooting guard, is a lights-out shooter, averaging 22 points per game last season.Garcia's 3-point shooting will be a huge compliment to the inside games of Clanton and the penetration ability of Marcus and Scott.
"Nik is a great shooter," Speraw said. "He has a reputation of making big shots in basketball games. He brings good length and he has a good sense on how to play."
Although Marcus has been slowed by a knee injury and has yet to find his touch from the field, all of the freshman will be counted on to adjust quickly to the college level to help contribute this season.
Despite the buzz surrounding his recruitment and the expectations that come with his last name, Marcus is not just looking to make an identity for himself, but also wants to help the Knights find their own identity.
"I want to get my name out there, but I also want to get UCF basketball's name out there too," Marcus said. "I'm looking forward to doing both."
Source: Central Florida Future, by Ryan Bass, November 18, 2009. Photo credit Rami Rotlewicz.