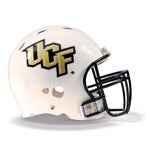 When UCF (3-3, 1-2 C-USA) has the ball
The Knights are coming off a tough, home loss against No. 8 ranked Miami. With a few tough series in the contest, one that included a first and two on Miami's goal line, UCF looks to assess their offensive struggles against a winless Rice team.
Quarterback Brett Hodges, after being sidelined briefly against Miami, will assume his starting position against the Owls. Hodges has completed 89-of-152 passes for 1071 yards and has thrown seven touchdown passes. With all of the Knights' receivers back and healthy, depth and targets will not be an issue for the Knights' passing game. Wide receivers Rocky Ross (19 catches, 232 yards, two touchdowns), Jamar Newsome (18 catches, 187 yards, two touchdowns), A.J. Guyton (15 catches, 193 yards) and Kamar Aiken (12 catches, 233 yards, two touchdowns) will be relied upon to established UCF's passing attack.
On the ground, UCF will once again look to the legs of running back Brynn Harvey. Harvey, who is the 26th ranked back in FBS, is averaging 93.5 yards per game with a 4.01 average per rush on the year. The running back has rushed 140 times for 561 yards and added six touchdowns.
When Rice (0-7, 0-3 C-USA) has the ball
The Owls have not had much success through seven games this year. Rice has been outscored by their opponents 315 to 112.
Rice will look to quarterback Nick Fanuzzi to try to get their offense established against UCF. Fanuzzi has completed 77-of-131 passes for 831 yards and four touchdowns. Fanuzzi has experienced receivers to institute the Owls' passing attack. Senior Toren Dixon (36 catches, 383 yards, two touchdowns), redshirt junior Patrick Randolph (25 catches, 220 yards, two touchdowns) and senior Taylor Wardlow (23 catches, 250 yards, one touchdown) will help Fanuzzi orchestrate a passing game against the Knights' defense.
In the rushing game, Rice is led by running backs Jeramy Goodson and Charles Ross. Goodson has rushed 42 times for 165 yards, while Ross has added 38 carries for 148 yards and four touchdowns.
Did you know?
If the Knights win over Rice this Saturday, it will be the 50th road victory in UCF football history … UCF's rush defense is ranked 10th in the nation and first in C-USA … UCF stands at 3-3 on the season despite not holding the lead going into halftime … UCF has a .500 record against five of the six West Division teams, including Rice, since joining C-USA.
UCF at Rice, Saturday, Oct. 24 • Rice Stadium • 3:30 p.m.
Television: None
Radio: UCF ISP Sports Radio Network • Marc Daniels (play-by-play), Gary Parris(color), Jerry O'Neill (sideline reporter), Scott Adams (reporter)
WYGM 740AM – Orlando, WMMV 1350AM Cocoa, WDCF 1350AM – Dade City, WROD 1340AM – Daytona Beach, WMMB 1240AM – Melbourne, WLVJ 1040AM/WKAT 1360 AM – Miami, Fort Lauderdale, South Palm Beach, WPSL 1590AM – Treasure Coast/North Palm Beach, WZHR 1400AM – Zephyrhills
Internet: Live audio/video and statistics at UCFAthletics.com