The TWA Flight Center at New York's John F. Kennedy International Airport looks like something straight out of Mad Men, an architectural marvel that evokes the wings of a bird and the dawn of the Jet Age.
Historians worry that looming plans to develop the Trans World Airlines terminal as a hotel may sacrifice some of the iconic features that earned it a spot on the National Register of Historic Places. Next week, researchers from the University of Central Florida will lead a team that will use high-tech laser scanners to capture the interior and exterior of the structure before that may happen.
"This is one of the great masterpieces of midcentury architecture," said researcher Lori Walters of the Institute for Simulation & Training and the Department of History, both at UCF. "We want to preserve it for future generations as it looks prior to any modifications that will be made in the near future."
The data will be used to create a finely detailed 3-D model of the building designed by Finnish-American architect Eero Saarinen that users could virtually explore.
"It will enable you to walk around and interface with the environment, so you'll be able hear an oral history snippet, see photographs, read documents, learn about the period and what jet travel was like in the 1960s," Walters said.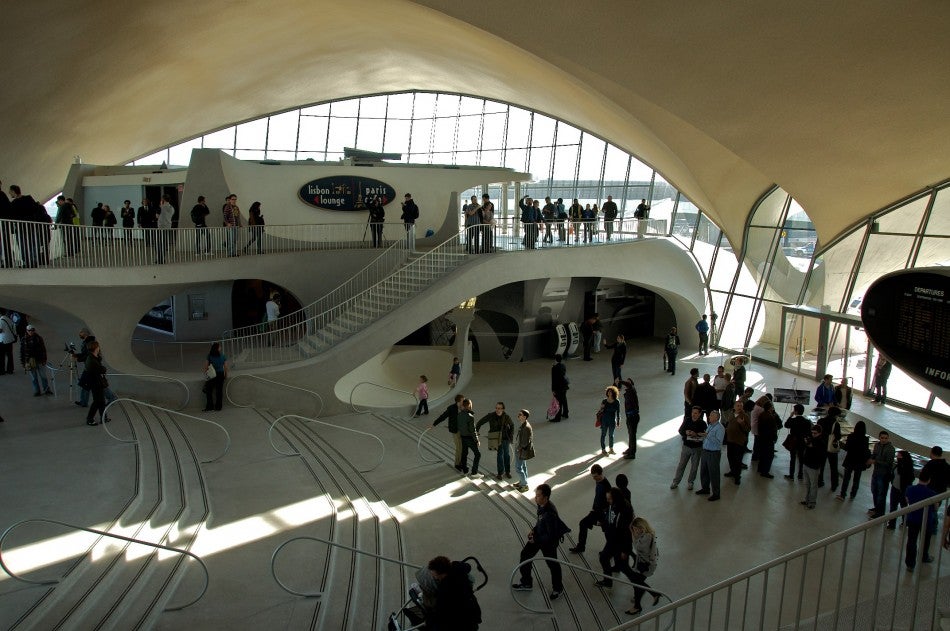 Working with UCF history instructor Michelle Adams, Walters has created digital 3-D depictions as varied as the New York State Pavilion from the 1964-65 World's Fair, NASA's Saturn V rocket and the Apollo 14 capsule.
They use sophisticated, tripod-mounted scanners that bounce lasers off objects, creating a point cloud of buildings and objects. Multiple scans are stitched together to create a 3-D depiction accurate down to two millimeters.
At Kennedy Airport, they've worked with the Port Authority to gain access to the TWA Flight Center, where scans are expected to start on Monday, June 15, and take five days. They'll be assisted by a crew from Langan Engineering & Environmental Services, as well as Rutgers University engineering professor Jie Gong and RU graduate students.
The TWA Flight Center opened in 1962, a year after Saarinen died. Its sweeping wings, use of glass and light, and fanciful interior have long captured the imagination. It was featured in the Steven Spielberg film "Catch Me if You Can" starring Leonardo DiCaprio.
The building has been vacant since 2001, when TWA ceased operations. The Port Authority is reportedly in negotiations with a developer to turn it into a hotel.
Walters, whose research focuses on post-World War II, particularly the 1950s and '60s, said the building should be remembered.
"I wanted our next project to be something that was representative of the era, and something that – I don't want to use the word threatened – but could be changing in the near future," she said.