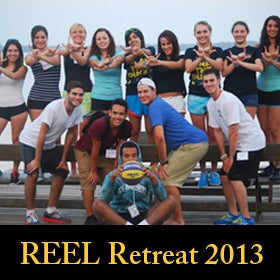 The LEAD Scholars Program geared up for another great year of leadership development, social change projects, fun times at UCF tailgates and many more campus events. This fall approximately 300 high-performing freshmen joined the LEAD Scholars team eager to become involved in the UCF community.
Prior to the start of the fall semester, 80 of these students participated in the annual two-day REEL Retreat. The retreat consisted of team building exercises, values-based activities, leadership lessons, and an acclimation to the UCF community.
"REEL helps the students immerse into the LEAD Scholars community. They become more open to opportunities and break out of their shell…they become more open minded individuals," said Sang Lee, 2013 REEL Retreat counselor.
Binita Devkota, first year REEL Retreat participant, said, "After the retreat I felt closer to everyone in LEAD Scholars-it was a really great bonding experience with other freshmen. It was a lot easier to make friends once school started since I already made connections during the retreat."