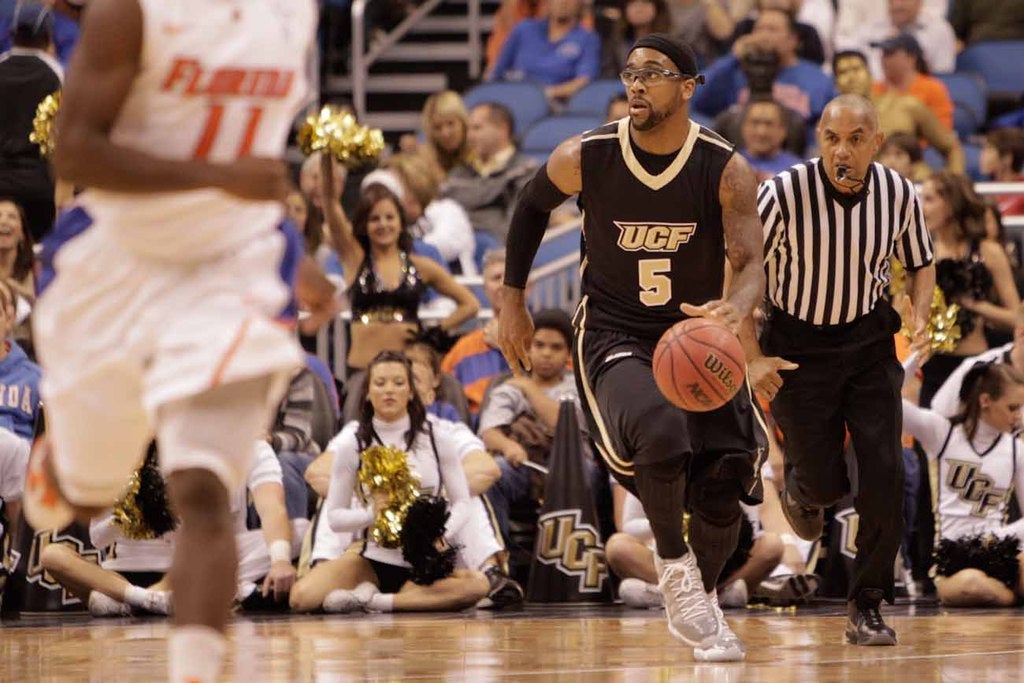 Central Florida has been trying to establish its identity in Orlando and in the entire state for quite some time.
A program-changing win over Florida — at a time when the school could be a candidate to join the Big East — will help make the Knights relevant.
It also helps to have a Jordan to gain more national attention.
For the first time in his career, the talk about Marcus Jordan has nothing to do with his famous father, Michael, or anything that happened off the court — from what gear he wore or how much he spent on a trip to Las Vegas.
Jordan scored 18 points in a 57-54 win over the Gators on Wednesday night at the Amway Center in Orlando. The only other double-figure scorer for UCF was Keith Clanton with 12. Jordan is averaging 17 points per game, shooting 48 percent on 3s and has led the Knights to a 6-0 record.
"It feels good," Jordan said by phone from Orlando. "I haven't always paid attention to what was said about me being Michael Jordan's son. I haven't thought about having to live up to how he played. I always just wanted to play my game and let my game speak for itself."
Central Florida still has to go to Miami and UMass in December but there is no reason to doubt that the Knights could be a contender in Conference USA along with Memphis, Southern Miss, UTEP, UAB and maybe Tulsa. Whether or not that occurs has a lot to do with Jordan.
Jordan has thrived in new coach Donnie Jones' up-tempo system. Jones, a former Florida assistant under Billy Donovan, made the rare move of changing jobs within the conference, leaving Marshall for Central Florida after the Knights fired Kirk Speraw. Jordan was a role player a year ago, averaging eight points a game. Now he's the featured player.
Marcus said he didn't entertain leaving during the coaching change. Having his brother, Jeff, who is sitting out this season after transferring from Illinois, has made the transition even smoother.
"I didn't want to sit out a year and the tempo is more of a free, loose style of basketball with pick and rolls," Jordan said. "I always thought that eventually my game would make its own name. I've worked hard in the gym and it's eventually paid off."
Marcus said his father texted him after the win Wednesday. He said his mother and sister were in the stands.
"He just said that he was proud of me making pull-up jumpers instead of always taking it to the hole," said Jordan. "This was definitely a huge win. We snapped a 19-game losing streak against ranked teams and the opponent was Florida. It was definitely a stepping stone for our program and our basketball program now we're getting nationwide attention. It feels good."
The Knights will have to avoid a letdown against SE Louisiana, Bethune-Cookman and Louisiana Lafayette in their next three games if they're to build on the momentum from the win over Florida.
"Everyone in the state wants to be like Florida," said Jones. "It was so good for our school. I've been excited about Marcus. He's worked extremely hard and he wants to play this style. He wants to create his own identity by what he does every day. He's got a great work ethic and his focus is better. He continues to work hard, stay humble and be a huge asset for us."
Jones said Michael Jordan has been to a few games and communicated with Jones, as well.
"He's been very supportive," Jones said of MJ. "Jeffery has been sitting out and he's a walk-on, not on scholarship. He'll have one year to play next year. He's a huge asset to us and next season he'll come in and help us immediately."
Jeff Jordan is sitting out alongside transfers Tristan Spurlock (Virginia) and Josh Crittle (Oregon), who should add even more depth to the Knights' program.
"What's been important is that we're recruiting kids that fit this system," Jones said. "Kirk did a great job here. Marcus fits how we play and he has the ability to create his own shot in a pro-type offense. He can really score. He'll play the two or the three and we're working on him playing 10-15 minutes a game at the point."
Jordan is now officially on the national radar for nothing but his own name and game. That's a difficult thing to do for a son of a famous basketball player. It has taken Minnesota's Ralph Sampson III two-plus seasons to stand out on his own. No one would compare Sampson to his father. No one should ever dare think Marcus can equal anything his father accomplished. He has never attempted to mimic his father's career, nor could he come close. That's OK. No one would expect him to do so.
"It feels good," Marcus said. "All summer and spring I've been working out at 9 a.m. I finally have something to recognize me on the court, more than off the court."
Source: ESPN, Andy Katz Blog, Marcus Jordan powers UCF's fast start
Andy Katz is a senior college basketball writer for ESPN.com. He started working for ESPN.com in 1998, eventually leaving a 10-year newspaper career in 1999 to join ESPN.com full-time. In addition to covering breaking news for the site and college basketball on a daily basis through his Daily Word, Katz is a reporter for studio and remote coverage of college basketball and the NBA draft on ESPN's family of networks. Katz is a regular on ESPNU's "The Bracket" show throughout the college basketball season.