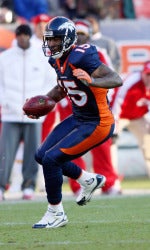 UCF is one of six schools to have multiple alumni starting in Sunday night's Pro Bowl in Miami as Denver Broncos wide receiver Brandon Marshall and Philadelphia Eagles cornerback Asante Samuel will take to the field right from the first AFC offensive snap.
UCF and Miami (5), California (3), Texas (2), NC State (2) and Kent State (2) are the only other schools that can boast about having two or more starters in the 2010 Pro Bowl.
Samuel tied for the NFL lead with his nine interceptions and was named a starter when the teams were first announced last month. Additionally, Samuel's 25 passes defended ranked seventh in the NFL this season.
It is the third straight year that Samuel has been selected for the Pro Bowl.
Marshall was initially named to the team as a backup but was recently added to the starting lineup as a replacement for Reggie Wayne who will miss the game while preparing for Super Bowl XLIV with the Indianapolis Colts. It is Marshall's second-straight Pro Bowl appearance. He started the 2009 game and made five catches for 44 yards for the AFC.
The fourth-year pro recorded his third consecutive 100-reception season, making him one of five players in NFL history to ever hit the century mark for three straight years. Marshall made 101 catches in his 15 games played this year for 1,120 yards and 10 touchdowns. The highlight of his year came on Dec. 13 at Indianapolis when he set an NFL record by making 21 receptions, good for an even 200 yards and both of Denver's touchdowns.
Source: UCF Athletics