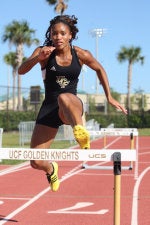 Twenty teams and over 600 student-athletes will converge at the UCF Track & Field Complex for the 2010 Conference USA Outdoor Track & Field Championships May 13-16. The meet features some of the nation's elite track and field athletes, including UCF sophomore Jackie Coward (Knoxville, Tenn.), who will defend her title in the 400-meter hurdles.
"Welcoming the numerous talented teams and student-athletes from around Conference USA to our campus is an exciting opportunity for our program and university," said head coach Caryl Smith Gilbert. "Our student-athletes are thrilled to compete for the conference championship in front of their friends and families, and we look forward to providing a fun, exciting atmosphere for our peers from around C-USA."
The event will get underway Thursday, May 13, at 2 p.m. with the women's heptathlon and men's decathlon. Those two events will conclude on Friday, when champions will also be crowned in the men's and women's hammer throw and men's and women's 10,000-meter runs.
A full slate of track and field events will be on the docket for both Saturday and Sunday. Field events will begin each day at 1 p.m. while track events commence at 6 p.m.
In 2009, Houston claimed the title of the men's championship, finishing nearly 50 points ahead of second-place UTEP. On the women's side, UCF gave Rice a strong challenge and finished second, but the Knights could not prevent the Owls from winning their third-straight outdoor title.
Tickets are currently available on UCFAthletics.com and Ticketmaster and can also be purchased in person at the event. Ticket prices are $12 for adults and $7 for youth each day, and all session tickets cost $25 for adults and $10 for youths.
Any students and staff from a C-USA institution are free with an I.D.