UCF sophomore running back Greg McCrae was overlooked as a recruit by too many schools to count, but he is currently the leader in total touchdowns for the No. 7 team in the country.
He is listed third on UCF's depth chart at running back, but he is the program's first 1,000-yard rusher since 2013.
He wasn't selected for any postseason conference awards, but he currently leads The American and ranks second in the nation with 8.95 rushing yards per carry.
"He works with everything that he's got." — Josh Heupel, UCF football head coach
His innate work ethic and humble attitude have carried the Miami native through his journey from a walk-on to one of the pivotal forces behind the UCF football team's sustained success this season.
"Greg is a great player because of who and what he is every single day inside of our program," UCF head coach Josh Heupel says. "He works with everything that he's got."
Earning It
From the time he was 7 years old serving on his youth team's offensive line, pretending he knew how to block people, McCrae's goal was to play college football.
Unlike some of his classmates, he wasn't heavily recruited in high school. He watched as people around him received scholarship offers from his dream schools.
"It was tough, but it helped me realize that there was still work to be done," he says.
"Coming here was a big risk and a big leap of faith for me." — Greg McCrae, sophomore running back
After one summer semester at Navy, he decided to transfer to UCF as a walk-on.
When he arrived for his first day on campus ahead of the 2017 season, he wasn't sure he made the right choice. He just gave up a scholarship with the Midshipmen. He was paying for school out of his own pocket. And up until that point, he had only talked to one assistant coach on staff.
"Coming here was a big risk and a big leap of faith for me," he says.
He found strength in running back Taj McGowan, who he knew from back home and became like a brother to him during those early days at UCF, and his family.
"I asked my parents, 'What if I get there and they never put me on scholarship?' They says, 'You can't think that. You have to think positive. You are going to work and do what you've got to do. You get everything you earn in life,' " he says. "That's really what got me through every day."
That along with some inspiration from teammate Shaquem Griffin '16.
"The things he was able to do and the impact he made on this team as a person, as a player, it resided with me," he says. "He's one of the reasons I work hard every day."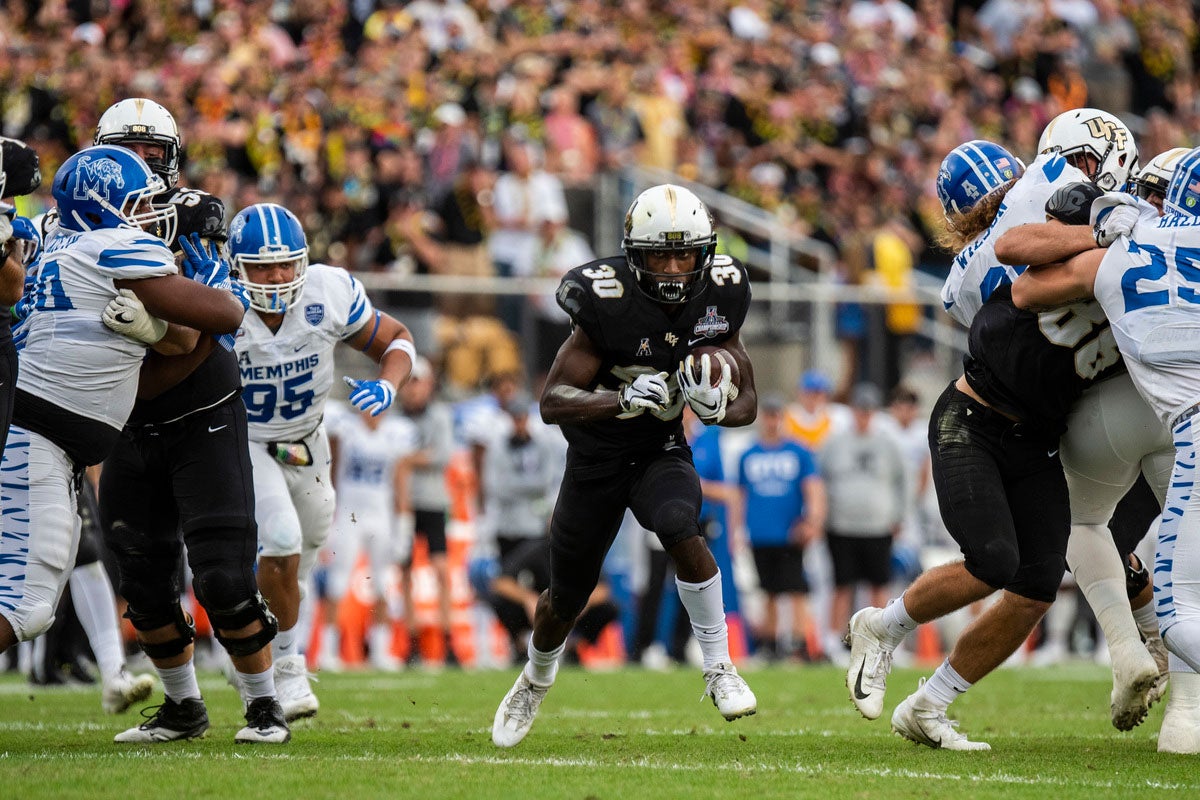 "Handcuffs" to Record Books
As a freshman, McCrae appeared in all 13 games, tallying a total of 151 rushing yards on 26 carries, to help UCF on its memorable run to a perfect championship season.
When he returned for fall camp of his sophomore year, he was ready to suit up once again as a walk-on to bolster the running back unit of Adrian Killins Jr., Otis Anderson and McGowan.
At the start of a preseason team meeting Aug. 1, UCF police officers showed up to the football facility looking for McCrae. They says they were there to arrest him for some unpaid parking tickets.
"I think I had like two, and I literally paid them probably 2-3 days before that," McCrae says. "I was scared because I thought I was going to jail."
In front of the team, Heupel asked the police if a scholarship would cover the parking tickets.
And that is the story of how McCrae found out he was no longer a walk-on.
"The whole team went crazy. [Junior defensive lineman] Trystan Hill used to be my roommate, and he was the first person to come up to me and grab me. Just a surreal moment," McCrae says. "To see them react that way was amazing. It just shows you the type of brotherhood we have here."
Compared to the 151 yards he tallied during his entire freshman year, he's blown by that mark in three different games this season. Of his 1,101 rushing yards accumulated so far, 717 were tallied during the final month of the regular season.
His performance this season currently ranks ninth in UCF's record book. If he hits his average 91 rushing yards during the Fiesta Bowl, he would improve his standing to fourth all-time for rushing yards in a single season, passing Kevin Smith's total in 2005.
His explanation for the success he has enjoyed this year is simple.
"That credit goes to my O-line," he says. "They open up huge holes for me. They've been putting in work up there."
"Being able to go out there and get better every day and prove people wrong is something that I take pride in." — Greg McCrae, sophomore running back
And, if he's being honest, maybe he does wake up every day looking to silence the doubters.
"What fuels me is that I didn't really have the scholarship offers [in high school]. I had a lot of people doubt me. A lot of people didn't think I could do it," he says. "Being able to go out there and get better every day and prove people wrong is something that I take pride in."