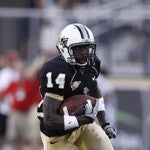 Coaches always say that there is no substitute for speed. Many, like former Florida coach Urban Meyer, aspire to have the country's fastest team. With that in mind, who will be the fastest players in college football this fall? The answers are found in this week's Top-10 list. (Note: this list only includes players who are already enrolled in school.)
1. Jeff Demps, RB/WR, Florida Gators
The fastest man in college sports. Period. No football player has bigger sprint credentials than this Gator. Demps' home must be littered with NCAA hardware from winning all of his national titles in track. Earlier this month, he repeated as the 60-m champ at the 2011 NCAA Indoor Track and Field Championships.
Demps' documented track times are insane. He has had a productive football career, as a home run threat for Meyer. Even though he has spent most of the spring with the Gators track team, not with new football coach Will Muschamp, who is shifting to a pro-style attack, Demps still should have an important role in the team's offense this year.
About a week ago, Muschamp shared with me his view on Demps' absence from spring ball. "He's a medal winner in track," Muschamp said. "I felt like it was fair to the University of Florida and our track team to let him run track. He's been involved in our meetings. He's been involved in the off-season work." Muschamp also said he expects Demps to have a sizable role in the new UF offense. "He will be a guy who we'll find ways to get the ball in space."
2. Marquise Goodwin, WR, Texas Longhorns
His athleticism was on display when he won the NCAA outdoor long jump title last year with a leap of 26 feet, 9 inches. You don't muster that kind of air time without some serious explosiveness. In high school, Goodwin also reportedly ran a 10.09 in the 100. One other reason why he's this high on our list: Teammate D.J. Monroe can fly, and Longhorn insiders say Goodwin is even faster.
3. T.J. Graham, WR/KR, North Carolina State Wolfpack
"Batman" had limited his track competition to focus on football where he has proven to be the top returnmen in Wolfpack history, but don't underestimate his pedigree. In 2007, Graham finished third nationally in the 100-meter dash at the Nike Outdoor Nationals, and then he won the 2008 North Carolina 4A state title in the 100 and 200 meters, posting times of 10.44 and 20.82 respectively. This offseason, Graham is running track for the first time since his high school days, after football coach Tom O'Brien worked out a plan to allow him to do so. Graham has been doing quite well, as detailed in this Tim Peeler story.
Graham won his first event on the track in January, at the Virginia Tech Invitational, with a career-best time of 6.70 seconds in the 60-meter dash. He has since lowered that time to 6.67 seconds. Against a strong field in Fayetteville, Ark., two weekends ago, Graham posted a career-best time of 20.90 seconds in the 200-meter dash, finishing fourth in the race and edging closer to the NCAA qualifying time of 20.70.
4. Quincy McDuffie, WR, UCF Knights
Knights receivers coach David Kelly once coached Eddie Kennison, who won the title of "Fastest Man in the NFL," and Kelly says McDuffie is just as fast. McDuffie's story is pretty head-turning as well.
"No one really recruited him," said Kelly. "He got hurt the first or second game of his senior year of high school with a back injury. No one knew about him. His high school coach Bill Gierke, who we have tremendous respect for, told us he didn't want to venture away from home. Bill brought him over to us the day before national signing day. We knew nothing about him. Bill told Coach O'Leary, 'I got a guy. Trust me. If you will just take him, you've got a hidden gem.'
"George O'Leary took Quincy McDuffie sight unseen. Without having seen any film. Not knowing any track times. Nothing. Just off the word of Bill Gierke. He hadn't burst out like that in track until later. Turns out that months after we took him, we find out we have one of the fastest kids in the country. It was just handed to us." A few weeks later, McDuffie ran a 46.02 time in the 400.
"He could easily be top 10 in the world right now if he trained for it," Kelly says. In 2010, McDuffie made second-team All-American as a kick returner, and that was while battling severe tendonitis in both knees.
Kelly also credits McDuffie with the key play in UCF's bowl win over the Georgia Bulldogs, on a play that had gotten called back because of a penalty. "Here is it: Georgia is playing this little school from Conference USA and Quincy McDuffie takes it back 100 yards," says Kelly. "At about 60 percent then, he runs away from everybody. Even though it got called back, right away Georgia said 'Whoa!' That knocked em back. We expected to come to this Liberty Bowl and walk over this little Conference USA team."
5. Travis Benjamin, WR/PR, Miami (FL) Hurricanes
DeMarcus VanDyke just ran the fastest 40-yard dash time of anyone at the NFL Combine last month, a blazing 4.28. I'd say that makes VanDyke a pretty good authority on speed. He conceded he wasn't even the fastest guy on last year's Miami team. Travis Benjamin was — and still is.
6. Skye Dawson, WR, TCU Horned Frogs
An unheralded football recruit, Dawson came to TCU with big-time track credentials. He won the Texas Relays 100-meter dash with a time of 10.43, and went on to win the state title in the 100, 4×100 and long jump. The 5-foot-10, 175-pounder sparked the Horned Frogs relay team in the 4×100 that ranked in the top five in the NCAA for the majority of the outdoor season. In addition, he won the 60-meter title at the 2010 MWC Indoor Championships.
7. LaMichael James, RB, Oregon Ducks
The Ducks' Heisman contender was the Texas 100-meter champ in 2006 with a 10.51 time. Even though he's been limited in his work with the Oregon track team, James still managed to take fifth in the Pac-10 championships while clocking a time of 10.52. He also anchored 4×100 relay to a fourth-place finish.
8. Robert Griffin III, QB, Baylor Bears
No player on this list has a bigger impact on his program than this dual-threat QB. In 2008, after graduating early from high school, Griffin displayed his World Class speed by taking third in the NCAA in the 400-meter hurdles, and finishing 11th in the US Olympic Team Trials.
9. Derrick Hopkins, WR, South Florida Bulls
This tiny Bulls reserve, who is just 5-foot-5 and 155 pounds, makes former LSU Tigersburner Trindon Holliday look like Terrell Owens, but you have to be impressed by his wheels. Hopkins won the Big East 60-meter dash indoor track championship with a time of 6.77 and also took home the 200-m title, too.
10. Denard Robinson, QB, Michigan Wolverines
Shoelace carried the Wolverines program on his back last season, and still ran away from defenses. When I asked my Twitter crowd, which player, besides Jeff Demps is the fastest in college football, Notre Dame Fighting Irish cornerback Gary Gray responded with "Shoe Lace." Gray should know about that speed, since his Irish defense saw the Wolverines QB run for 258 yards, including an 87-yard touchdown scamper, in the teams' 2010 meeting.
Just missed the cut: Luther Ambrose, WR, Louisiana-Monroe; Randall Carroll, WR, UCLA Bruins; Kenneth Gilstrap, CB, Middle Tennessee State; Lamaar Thomas, WR, New Mexico Lobos; Tyron Carrier, WR/KR, Houston Cougars; Josh Harris, RB, Wake Forest Demon Deacons; D.J. Monroe, RB, Texas; Devon Smith, WR, Penn State Nittany Lions; Chris Rainey, RB/WR, Florida; David Wilson, RB, Virginia Tech Hokies; Ladarius Perkins, RB, Mississippi State Bulldogs; Taylor Martinez, QB, Nebraska Cornhuskers; Lamar Miller, RB, Miami; Andre Debose, WR, Florida Gators; Sam McGuffie, RB, Rice Owls; Jeff Scott, RB, Mississippi Rebels;Robert Woods, WR, USC Trojans; Conroy Black, CB, Utah Utes; Justin Hunter, WR,Tennessee Volunteers
Source: Ranking the nation's fastest players by Bruce Feldman, senior writer at ESPN The Magazine, March 30, 2011. He started at ESPN in 1994.