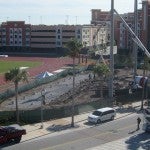 The digging has begun and concrete has started to pour as the West side of the UCF Track and Soccer Complex is undergoing a transformation this winter. The project is the first of the UCF Athletics' Facility Development Plan and is slated to be completed in early spring.
Wharton-Smith, Inc. Construction Group is managing the project, the same company that handled the construction for Bright House Networks Stadium.
The additions to the UCF Track and Soccer Complex will increase the seating capacity from 428 to 2,365. This will include 1,489 seats with the new stadium plus 448 portable seats placed during events near the goals in both end zones.
The complex also will include a press box and public restroom building, and will be clad with a red brick and stucco facade.