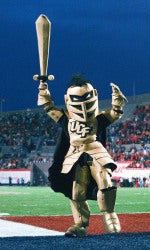 The No.1 must-see game, according to some experts, is UCF at Southern Miss. Why?
EXCERPT:
UCF has reached the Conference USA championship game three times since joining the conference in 2005, but despite all of the Knights' success, Southern Miss has always seemed to have their number.
The Golden Eagles are 5-1 all-time against the Knights, including last year's 31-21 win in Orlando. In that game, UCF jumped out to an early 14-0 lead, but the offense stalled in the second and third quarters and the Knights couldn't make up enough ground in the fourth.
If UCF wants to win their second straight C-USA title, they'll need to shake their demons and top Southern Miss, because the winner of this game likely plays in the conference championship game in December.
Source: FOXSports.com