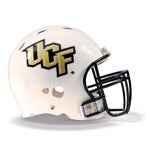 The NCAA announced today that it has found that the University of Central Florida's football program committed violations deemed "major" involving two former employees making impermissible recruiting telephone calls and text messages.
UCF self-reported the violations to the NCAA. The case was resolved through the summary disposition process, a cooperative effort where the involved parties submit the case to the NCAA Division I Committee on Infractions.
The NCAA's report said the case centers on at least 209 impermissible telephone calls and about 100 text messages to 27 prospective student-athletes and/or their parents during a period of almost 18 months. The former employees were non-coaching staff members while at UCF.
The penalties include two years of probation, recruiting restrictions (already complete) and two-week suspensions of the two former employees at their current universities. Read the NCAA's release and view its public report here .
"We fully accept the NCAA's findings and penalties," said UCF Director of Athletics Keith Tribble. "I demand NCAA compliance from our entire organization, and we have procedures in place to help prevent this in the future."
UCF Athletics employees receive extensive training about NCAA rules and regulations, including:
• Conducting quarterly phone audits of random coaches and non-coaching staff members.
• Conducting monthly phone audits of the director of player personnel for football.
• Conducting monthly compliance meetings with all members of coaching staffs.
• Holding individual compliance education meetings for all new employees.
• Emphasizing phone call and text message compliance in all NCAA education.
"The violations that took place are extremely disappointing to me," said head coach George O'Leary. "We run a first-class program, and there is no place for this behavior at UCF. I want our fans to know that we acted immediately when we learned about what was going on and worked with the NCAA from the start."
Click here to read a message from UCF Director of Athletics Keith Tribble.