Maggy Tomova will become the next dean of UCF's College of Sciences on Oct. 18.
She joins UCF from the University of Iowa, where she currently serves as the associate dean for the Natural, Mathematical, and Social Sciences in the College of Liberal Arts and Sciences.
Her appointment by Michael D. Johnson, interim provost and vice president for Academic Affairs, concludes an extensive national search. Tomova will be responsible for enhancing research and graduate programs, student success, philanthropy and the overall operations of UCF's largest college.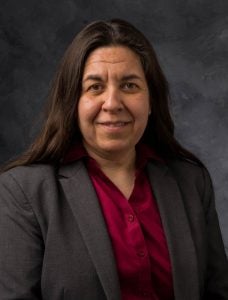 "Dr. Tomova brings experience facilitating faculty research and a passion for recruiting and supporting faculty, staff, and students with diverse backgrounds," Johnson says. "She will bring a collaborative leadership style and strategic thinking to bear on the opportunities and issues that future years bring."
Before her current role at the University of Iowa, Tomova served as the department executive officer of the university's Department of Mathematics, where she led efforts to increase faculty research and recruit outstanding faculty members with diverse backgrounds.
She is a professor of mathematics whose research in low dimensional manifolds and knot theory has been supported by grants from the U.S. National Science Foundation.
Tomova holds a bachelor's degree in mathematics and biochemistry from California Lutheran University and earned her doctoral degree in mathematics from the University of California at Santa Barbara. She is completing a master of business administration degree at the University of Nebraska.
"UCF is a remarkable institution where world-class research and high-quality affordable and accessible education combine in a wonderful synergy. The excellence and diversity of the student body and the many successes of the alumni are a testament to the talents and dedication of the faculty and staff," Tomova says. "I look forward to working with everyone in continuing to achieve new milestones to benefit our students, the state and society. This is the work that inspires me, and I am honored and excited to be a part of this extraordinary community."