The first new episode of the For Your Health show explores aphasia — the loss of speech and language resulting from stroke or other neurologic injury. The episode features studio interviews with faculty experts conducted by veteran medical reporter Charna Wiese. And it takes you to The Aphasia House, where participants with aphasia undergo intensive therapy that produces stunning results.
The episode will air repeatedly throughout the month of February on Bright House Channel 1 and Central Florida on Demand Channel 300.
Subsequent episodes of For Your Health will focus on health care reform and hospitals, health care informatics, doctoral training in physical therapy, physical therapy aid in Jamaica, and research on neck-pain management.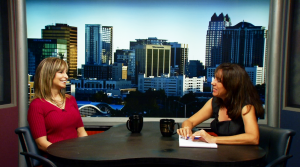 The season also includes three new episodes of the Public Affairs Today show, hosted by veteran news reporter Alicia Callanan Mandigo. The episodes welcome faculty experts and members of the community to the studio to share their insight on police culture, truancy intervention and strengthening the efforts of nonprofits.
Public Affairs Today's field segments focus on domestic violence, Seminole County's juvenile justice programs and Hope Community Center in Apopka, Fla.
For a complete viewing schedule, see http://tiny.cc/s0wcb.