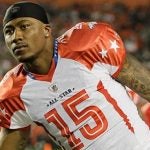 There is no shortage of UCF alumni heading off to NFL training camps which open up this week. Last fall the Knights had 15 alumni on active NFL rosters, two of which played in the Pro Bowl in Asante Samuel of the Philadelphia Eagles and new Miami Dolphin Brandon Marshall who signed the richest free agent contract in NFL history for a wide receiver this offseason.
In addition to Marshall, a few other former Knights have also changed teams since the conclusion of the 2009 season.
Defensive tackle Leger Douzable has recently moved from St. Louis to Detroit. Travis Fisher has gone from the Seattle Seahawks to the Baltimore Ravens. Michael Gaines signed as a free agent with the Houston Texans but has since been released by the club. Michael Greco signed as an undrafted free agent with the New York Giants and earned a spot on the team's training camp roster. Veteran offensive lineman Cornell Green was given a three-year free agent contract by the Buffalo Bills where he will share a locker room with Torell Troup, a second round pick of the Bills in April's draft. Also, Darcy Johnson has moved from the New York Giants to the St. Louis Rams.
Below is a listing of the 17 former Knights who will begin NFL training camps this week:
Atari Bigby, S, #20, Green Bay Packers
Patrick Brown, OL, #78. Minnesota Vikings
Joe Burnett, CB, #27, Pittsburgh Steelers
Leger Douzable, DT, Detroit Lions
Travis Fisher, CB, #41, Baltimore Ravens
Michael Greco, S, #41, New York Giants
Cornell Green, OT, #74, Buffalo Bills
Rashad Jeanty, LB, #53, Cincinnati Bengals
Darcy Johnson, TE, #87, St. Louis Rams
Brandon Marshall, WR, #19, Miami Dolphins
Matt Prater, PK, #5, Denver Broncos
Sha'reff Rashad, S, #30, New York Giants
Asante Samuel, CB, #22, Philadelphia Eagles
Mike Sims-Walker, WR, #11, Jacksonville Jaguars
Josh Sitton, OG, #71, Green Bay Packers
Kevin Smith, RB, #34, Detroit Lions
Torell Troup, DT, #96, Buffalo Bills
To UKNIGHT behind the current UCF team and receive your free Knights Rewards Card's valuable discounts, reserve your 2010 football season tickets today. Call the UCF Athletic Ticket office at (407) 823-1000 or log onto UCFAthletics.com.